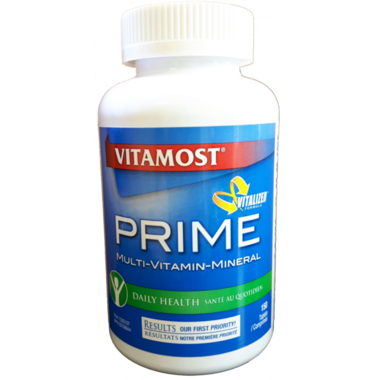 Description
Rowland Formulas Prime Multi Vitamin Mineral is a complete and balanced multi-vitamin-mineral formula.
Five PRIME tablets per day replace up to 16 different tablets and capsules of conventional, fragmented products
. Ideal supplementation for young people, athletes, pregnant and lactating women, and any adult who does not have a condition requiring specific support. [RTRE™ is better suited for most men over 40 and for postmenopausal women.]
Directions:

Adults and teenagers – 5 tablets daily, in divided amounts with meals. Children – 1 tablet per day for every three years of age.
VITAMINS
Vitamin A (palmitate) 2,000 IU
Vitamin D-3 (cholecalciferol) 166 IU
Vitamin E (d-alpha tocopheryl succinate) 80 IU
Vitamin C (ascorbic acid) 300 mg
Vitamin B-1 (thiamine mononitrate) 10 mg
Vitamin B-2 (riboflavin) 10 mg
Niacinamide 10 mg
Pantothenic Acid 20 mg
Vitamin B-6 (pyridoxine HCl) 10 mg
Folic Acid 200 mcg
Vitamin B-12 66 mcg
Biotin 24 mcg
LIPOTROPIC FACTORS
Choline (bitartrate) 24 mg
Inositol 10 mg
MINERALS
Calcium (carbonate) 160 mg.
Magnesium (oxide) 100 mg
Potassium (chloride) 80 mg
Iron (ferrous fumarate) 4.4 mg
Manganese (gluconate) 3 mg
Zinc (gluconate) 5 m
Silicon (dioxide) 4 mg
Iodine (potassium iodide) 160 mcg
Chromium (chelate) 44 mcg
Selenium (chelate) 40 mcg
Molybdenum (sodium molybate) 4.4 mcg
Vanadium (chelate) 2 mcg
OTHER INGREDIENTS
Lemon Bioflavonoids 20 mg
Shilajit extract 13 mg
Betaine Hydrochloride 4 mg

Highlights

Shipping & Returns