SBT Seabuckthorn Coughs & Colds & Sniffles Too Soothing Salve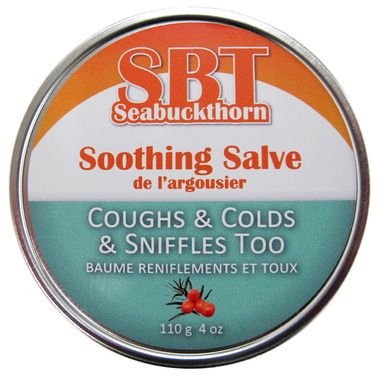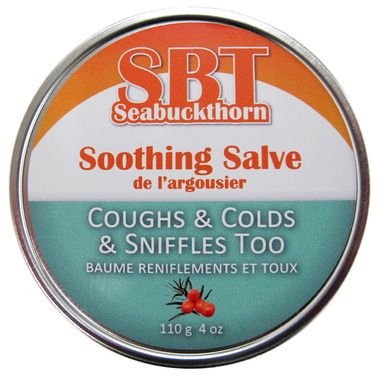 SBT Seabuckthorn Coughs & Colds & Sniffles Too Soothing Salve
SBT Seabuckthorn Coughs & Colds & Sniffles Too Soothing Salve is a potent and effective combination of oils to clear and soothe stuffy heads and congested chests. Contains naturally healing Seabuckthorn, Eucalyptus, Ravintsara, Peppermint, and Ravensara Oils. Helps to reduce head, nasal, throat, and chest congestion. Soothing Seabuckthorn oils also help to soothe a sore chapped nose and reactive/tired skin. This salve contains anti-viral and anti-bacterial properties to help you get better fast.
Features:

Relieves head, nasal, throat, and chest congestion naturally
Stops cough instantly
Heals irritated and chapped skin around nose and mouth caused from sniffling
Safe for kids & babies
100% Natural, vegan, cruelty free, soy free, non-gmo, nut free, gluten free, palm oil free
Directions: Healing decongestant chest and throat rub for coughs and colds. Apply to chest, neck, and nose as often as required.

Ingredients:
Coconut Oil, Candelilla Wax, Cocoa Butter, Organic SBT Seabuckthorn Seed Oil, Organic SBT Seabuckthorn Fruit Oil, Eucalyptus Oil, Ravintsara Oil, Ravensara Oil, Peppermint Oil
Made in Canada, Gluten Free, Soy Free, Natural, Vegan, Nut Free, Sugar Free