SBT Seabuckthorn Heal to Toe Soothing Salve
Foot Care & Concerns
110 g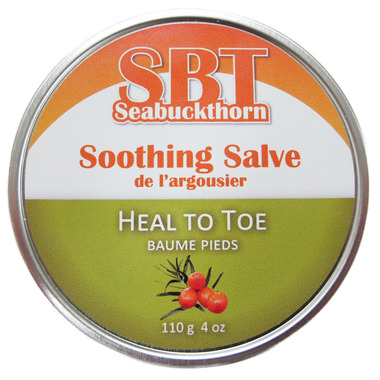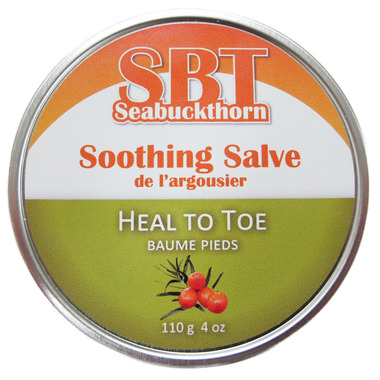 SBT Seabuckthorn Heal to Toe Soothing Salve
Foot Care & Concerns
110 g
Cherish your hard working feet! SBT Seabuckthorn Heal to Toe Soothing Salve hydrates, nourishes, protects, softens, and heals a myriad of common foot afflictions. SBT Seabuckthorn Seed & Fruit Oils in combination with Lemon Tea Tree, Tea Tree, and Thyme essential oils provide anti-bacterial and anti-fungal foot protection while Peppermint oil relaxes and cools sore and tired tootsies. Treats and heals dry, cracked, and blistered feet. The anti-fungal and anti-bacterial properties in our SBT Heal to Toe Foot Salve combat afflictions such as Athlete's Foot, foot odor and deep cracks and callouses.
Features:
Heals cracks, callouses, and chronic dry feet
Anti-fungal & anti-microbial oils help to keep fungus and bacteria at bay
Effective natural treatment for those with Athlete's Foot
Peppermint oil helps to cool & calm tired and over worked feet
Directions: A deep penetrating moisturizer with anti-microbial, anti-fungal, and analgesic properties to maintain soft, odor free, and fungal free feet. Apply liberally to clean feet.

Ingredients:
Coconut Oil, Candelilla Wax, Cocoa Butter, Organic SBT Seabuckthorn Seed Oil, Organic SBT Seabuckthorn Fruit Oil, Tea Tree Oil, Lemon Tea Tree Oil, Thyme Oil, Peppermint Oil
Made in Canada, Gluten Free, Soy Free, Natural, Vegan, Nut Free, Sugar Free