SBT Seabuckthorn Muscle & Joint Pain Soothing Salve
Pain, Inflammation, & Tension
110 g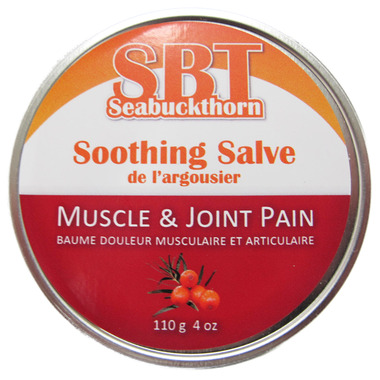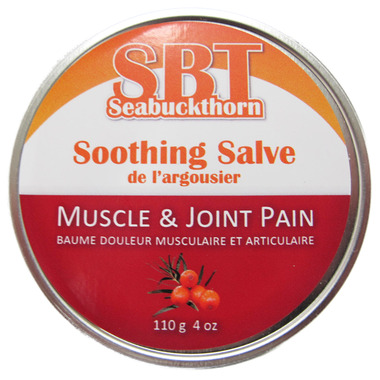 SBT Seabuckthorn Muscle & Joint Pain Soothing Salve
Pain, Inflammation, & Tension
110 g
SBT Seabuckthorn Muscle & Joint Pain Soothing Salve provides instant natural relief from joint and muscle pain with a combination of powerful anti-inflammatory oils work synergistically to penetrate deep into sore tissue & ligaments and provide lasting relief. Naturally healing seabuckthorn, plai, sweet birch (natural Aspirin), sweet marjoram, and rosemary oils work synergistically to reduce inflammation and relieve muscle and joint pain and stiffness. Sweet birch oil (natural Aspirin) and plai oil relieve joint and muscle pain while seabuckthorn, rosemary, & marjoram oils relieve swelling and inflammation. This Soothing Salve also works well for painful scratches, scrapes, and mosquito bites.
Features:
Relieves muscle & joint pain (for both day to day and long term pain/existing injuries)
Reduces swelling & inflammation
Transdermal seabuckthorn oils help to pull active essentials through the layers of your skin for effective relief
Has shown beneficial in tendon & tissue damage & stiffness
Directions:
Apply as frequently as required to achieve relief. For best results rub into tissue as deeply as possible - you will feel the pain and inflammation being worked out.
Ingredients:
Coconut Oil, Cocoa Butter, Candelilla Wax, Sea buckthorn Seed Oil, Plai Oil, Sweet Birch Oil, Rosemary Oil, Marjoram Oil, Sea buckthorn Fruit Oil
Natural, Gluten Free, Sugar Free, Dairy Free, Peanut Free Product, Tree Nut Free Product, Canadian Brand.
Made in Canada, Gluten Free, Soy Free, Natural, Vegan, Nut Free, Sugar Free