Scentuals Pure Essential Oil Gift Set Recover And Repair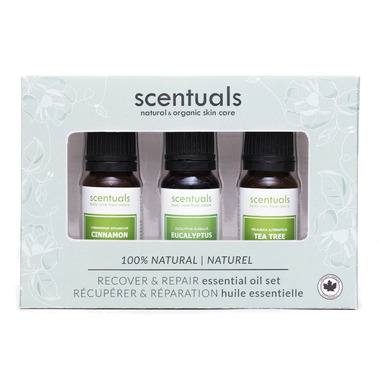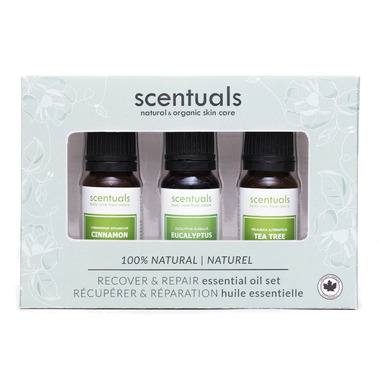 Scentuals Pure Essential Oil Gift Set Recover And Repair
The Perfect blend of 100% Pure Essential Oils to Repair and Recover mind & body.
Tea Tree oil is distilled from the leaves the tree. This bold and distinctive essential oil is perfect for clearing up congestion and disinfecting. Cinnamon oil is extracted from the leaves of the tree. This musky, spicy essential oil is used to fight infection and poor circulation as well as combating exhaustion. Eucalyptus oil is distilled from the leaves and twigs of the eucalyptus tree. This refreshing, clean essential oil is great for relieving muscle pain and alleviating exhaustion.
Suggested Uses:
Dilute in carrier oils like Scentuals' Organic Argan, Tamanu and Vitamin E, or water.
Use with diffusers or add the the wax of burning candles.(3-5 drops for every 100ml of water or 1 drop to every tbs of carrier oil)
Add to unscented cleaning products or water and spray on linens.
Add to unscented beauty and skin care products, Scentuals Scentfree Collection is the perfect canvas for creating your own personal scent blend.
Set Contains:
Cinnamon (10ml)
Eucalyptus (10ml)
Tea Tree (10ml)
Natural, Vegan, Gluten Free, Fair Trade, Non-Gmo