Schmidt's Deodorant Rose & Vanilla Deodorant Travel Size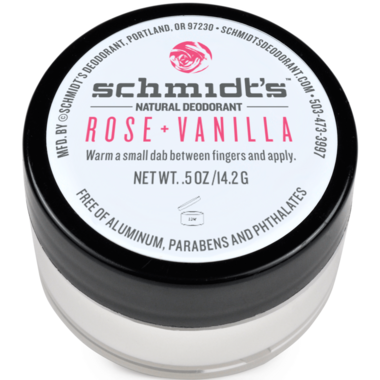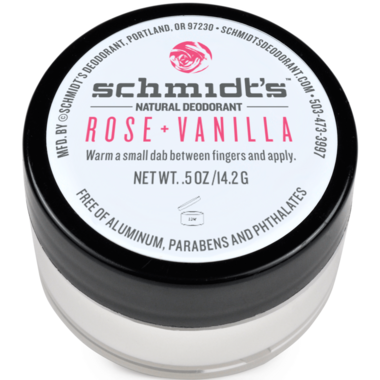 Schmidt's Deodorant Rose & Vanilla Deodorant Travel Size
Schmidt's Deodorant Rose & Vanilla Deodorant has the scent of a heavenly bouquet of roses with hints of sweet, powdery vanilla. Luxurious, elegant, and inviting. Schmidt's Rose & Vanilla Deodorant has plant-based powders to help absorb wetness without the use of aluminum, and helps neutralize odor naturally.
Features:
Free of aluminum, propylene glycol, parabens & phthalates;
No artificial fragrance;
Non-greasy, non-sticky feel.
Easily absorbed; application requires only a small amount
Certified Vegan, Cruelty-free, and Gluten-free
Directions:
Apply gently to underarms as needed. Do not overapply.
Ingredients:
Maranta arundinacea (arrowroot) powder, Cocos Nucifera (coconut) Oil, Euphorbia Cerifera (candelilla) Wax, Butyrospermum parkii (shea butter), Sodium bicarbonate (baking soda), Caprylic/Capric Triglyceride (fractionated coconut oil), Simmondsia Chinensis (Jojoba) Seed Oil, Natural fragrance, Tocopherol (vitamin E)



Me:
a few months ago
This original line from Schmidt's is very effective for odor control. However, if your skin is sensitive, your pits won't like this. I fell in love with the range of scents and bought several of the stick versions each of the rose, bergamot and lavender but found out quickly they were very abrasive and I broke out in a rash within a couple of days of using it. I was so hopeful this creamy version would be the perfect fix. While it is very good at keeping the stink away, I still got a rash within a couple of days and I think it's the baking soda. If you don't have sensitive skin, then by all means, give this stuff a try!
Page
1