Seventh Generation Laundry Detergent Packs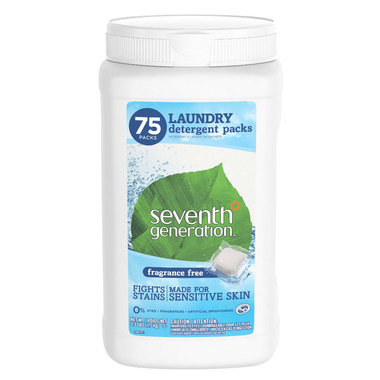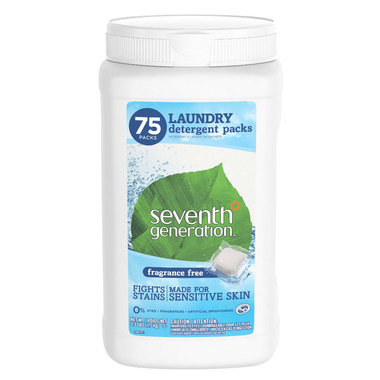 Seventh Generation Laundry Detergent Packs
Seventh Generation biobased Laundry Packs use quadruple-enzyme power to remove stains and leave your clothes looking as good as new! Just toss-and-wash, these single-dose pods make laundry day simple and mess-free.
Features:
Quadruple-Enzyme Formula Removes Tough Stains
Safer Choice Seal: tested and approved by the EPA as a Safer Choice
All-temperature laundry packs work in hot and cold water
Effective in HE & standard washers
Fragrance-free

How to Use:
In HE or standard machines, drop one pack DIRECTLY INTO WASHING MACHINE before adding clothes. For larger or heavily soiled loads, use two packs. Re-seal package and store in a dry place, out of reach of children. Do not handle pack with wet hands. Septic Safe.
Ingredients:
Sodium citrate (plant-derived water softener), sodium carbonate (mineral-based cleaning agent), laureth-6 (plant-derived cleaning agent), hydrated silica (mineral-based flow aid), cocos nucifera (coconut) oil (plant-derived anti-foaming agent), protease (plant-derived enzyme blend soil remover), amylase (plant-derived enzyme blend soil remover), mannanase (plant-derived enzyme blend soil remover), cellulase (plant-derived enzyme blend soil remover).

Cruelty Free, Gluten Free, Biobased
McFife:
a couple of weeks ago
This is a great product. So simple to use (just pop a pod in the dishwasher). If your house is like our house, you will need to run the water to ensure that it's HOT by the time it gets to the dishwasher so that the soap gets fully dissolved. I'd say this is my 2nd favourite bio-friendly dishwasher pods. And I've tried a lot of them!
Page
1