Similac Go & Grow Step 3 Toddler Nutritional Supplment Vanilla Flavour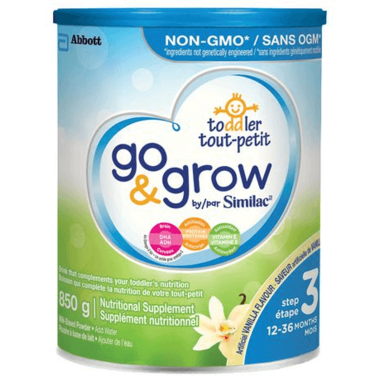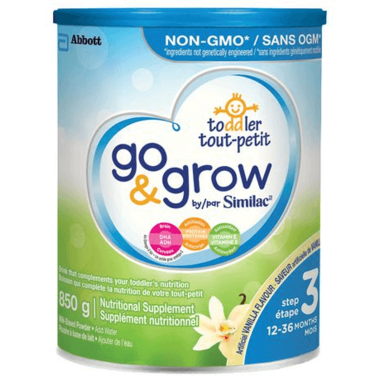 Similac Go & Grow Step 3 Toddler Nutritional Supplment Vanilla Flavour
Go & Grow by Similac® Toddler Drink is designed to help support growth and development and to complement your toddler's daily nutrition.
Features:
An every day drink that is an excellent source of protein, and provides key nutrients such as iron, calcium, DHA and vitamin E.
Provides 27 nutrients [including DHA, protein, iron, calcium and vitamin D] to help support growth and development and is non-GMO*
Ingredients: Skim milk, sucrose, high oleic sunfl oweroil, lactose, soy oil, coconut oil, galactooligosaccharides, artificial vanilla fl avour, soy lecithin, C. cohnii oil*, cholinechloride, choline bitartrate, M. alpina oil**, ascorbylpalmitate, mixed tocopherols, cytidine 5'-monophosphate, disodium uridine 5'-monophosphate, adenosine 5'-monophosphate,disodium guanosine 5'-monophosphate, minerals (magnesium chloride, potassium citrate, calcium carbonate, potassium hydroxide, sodium chloride, ferroussulphate, zinc sulphate, manganese sulphate, copper sulphate), VITAMINS (ascorbic acid, niacinamide, calcium d-pantothenate, vitamin A palmitate, thiamine hydrochloride,pyridoxine hydrochloride, ribofl avin, folic acid, biotin, b-carotene, vitamin D3). May contain: calcium chloride, calcium phosphate tribasic.

Contains: milk, soy.
* Source of Docosahexaenoic Acid (DHA)
** Source of Arachidonic Acid (ARA)