Similac Step 1 Total Comfort Infant Formula Powder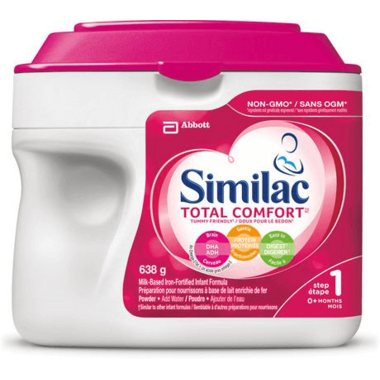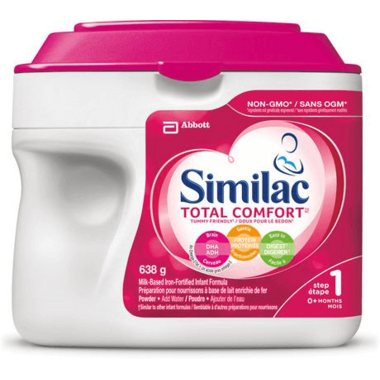 Similac Step 1 Total Comfort Infant Formula Powder
Similac® Total Comfort™ tummy-friendly and easy to digest formula. Fortified with Omega-3 (DHA) & Omega-6 (ARA), it is made from 100% whey protein that is broken down into smaller pieces for easy digestion.
Features:

Tummy-friendly and easy to digest
100% whey protein that is partially broken down
Contains Omega-3 (DHA) & Omega-6 (ARA) to support the normal development of the brain and eyes
Patented blend of nucleotides (72 mg/L)
No palm olein oil
Non-GMO

Available in a hassle-free package designed with moms, for moms.
Ingredients: Corn maltodextrin, whey protein hydrolysate, higholeic saffl ower oil, sucrose, coconut oil, soy oil, calcium citrate, potassium phosphate monobasic, calcium phosphate tribasic, M. alpina oil*, potassium hydroxide, sodium chloride, magnesium chloride, ascorbic acid, C. cohnii oil**, potassium chloride, choline chloride, calcium hydroxide, taurine, choline bitartrate, m-inositol, ferrous sulphate, cytidine 5 -monophosphate, zinc sulphate, disodium guanosine5'-monophosphate, ascorbyl palmitate, d-tocopheryl acetate,L-carnitine, disodium uridine 5-monophosphate, adenosine 5 -monophosphate, tocopherols, niacinamide, calcium pantothenate, potassium citrate, cupric sulphate, vitamin A palmitate, riboflavin, thiamine chloride hydrochloride, pyridoxine hydrochloride, manganese sulphate, folic acid, potassium iodide, phylloquinone, sodium selenate, biotin, vitamin D3, cyanocobalamin.

May contain: citric acid.

Contains: milk.
* Source of Arachidonic Acid (ARA)
** Source of Docosahexaenoic Acid (DHA)

Not for infants or children with galactosemia.