Simply Sleep Mini-Caplets
From The Makers Of Tylenol
20 Mini-Caplets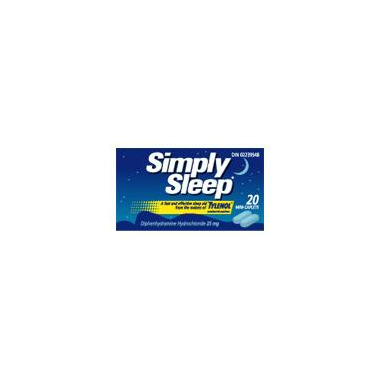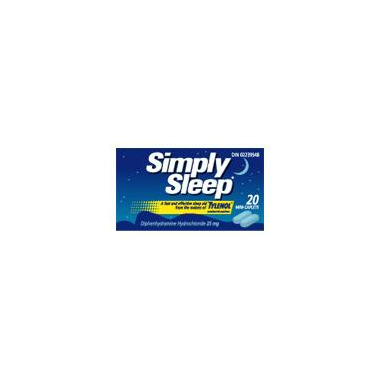 Simply Sleep Mini-Caplets
From The Makers Of Tylenol
20 Mini-Caplets
SIMPLY SLEEP, from the makers of TYLENOL, is an effective sleep aid for relief of occasional sleeplessness due to overwork, tiredness or fatigue.

Dosage
Adults (12 years and older): 1 - 2 caplets at bedtime if needed. Do not exceed the recommended dosage, unless advised by a doctor.

Medcinial Ingredients
Each caplet contains 25 mg Diphenhydramine Hydrochloride.

Nonmedinical Ingredients (alphabetical)
Carnauba wax, cellulose, croscarmellose sodium, dibasic calcium phosphate, FD&C blue no. 1, hypromellose, magnesium stearate, polyethylene glycol, polysorbate 80, titanium dioxide.

Caution
Keep out of the reach of children. Not recommended for children under 12 years of age. Talk to a doctor before use if you have asthma, glaucoma, problems with breathing or your prostate, or are pregnant or nursing or taking other medications. Not for prolonged use.
Chemical Name: Diphenhydramine Hydrochloride 25 mg