SISU Adult Health Maintenance Bundle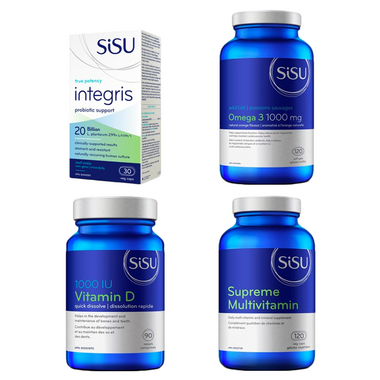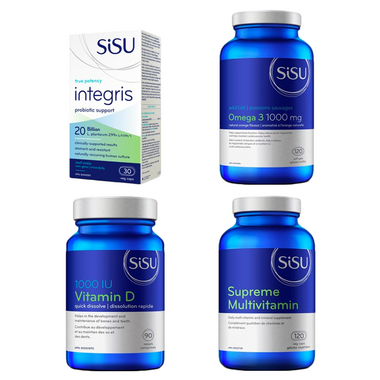 SISU Adult Health Maintenance Bundle
The SISU Adult Health Maintenance Bundle is ideal for those searching for daily overall health maintenance and support.

Bundle Includes:
SISU Supreme Multivitamin with Iron - 120 Vegetarina Capsules
SISU Integris 20 Billion - 30 Vegetarian Capsules
SISU Omega-3 1000 mg - 120 Soft Gels
SISU Vitamin D 1000IU - 90 Tablets
SISU Supreme Multivitamin

A daily multi vitamin and mineral for the maintenance of good health.
Features:
Full complex of B vitamins to support brain function, nervous system, and cardiovascular health
High potency B vitamins help with daily stress
Formulated with Ester-C®, less acidic vitamin C that has been proven to last up to 24 hours in the white blood cells of the immune system
Enhanced with vitamin K and boron to support bone health
Lutein is important to eye and vision health
Trace minerals in the preferred citrate or chelate form for rapid absorption
Enhanced with antioxidant bioflavonoids form citrus fruits
Contains no calcium and magnesium as these minerals should be taken separately at a higher dose than can be fit into a multivitamin formula
SISU Integris 20 Billion

On a daily basis, the active probiotic in Integris not only naturally supports digestive health, but can also help with occasional gas and bloating, while supporting abdominal comfort.

Features:

Patented probiotic strain Lactobacillus plantarum (LP299vTM) with unique therapeutic properties not found in any other strain
20 billion live CFUs (colony-forming units) per capsule, a dosage that is
clinically proven to be effective and safe, including for children
One of the most-researched probiotics with more than 75 clinical studies over
more than 25 years
Withstands stomach acid, multiplies in the intestines, stimulates protective
intestinal mucous, and inhibits pathogens
The only strain of bacteria proven to stimulate the growth of other probiotics,
thus increasing biodiversity in the intestines
Reduces or eliminates nausea and diarrhea side effects of antibiotics
SISU Omega-3 1000 mg

A source of omega 3 fatty acids (EPA and DHA) for the maintenance of good health. Helps support brain function. Helps reduce serum triglycerides and helps maintain cardiovascular health.


Features:

High-potency wild fish oil standardized to contain a minimum of 40% EPA and 20% DHAM
Vitamin E added as a natural antioxidant and preservative
Processed using molecular distillation to concentrate the active ingredients and eliminate contaminants such as mercury, lead, PCBs, and dioxins
EPA and DHA in omega 3 are vital to many aspects of heart health
EPA and DHA help to control inflammation and may be useful against mild allergic reactions, joint swelling, and gastrointestinal ulcers
Omega 3 supports brain health and provides support against depression and migraines
SISU Vitamin D 1000IU
Vitamin D is an important factor in the prevention of bone loss in men and women.
Features:
One tablet provides 1,000 IU of Vitamin D, the maximum allowed in a Canadian supplement
D3 (cholecalciferol) derived from lanolin from sheep's wool
Vitamin D is essential to calcium absorption and helps support bone density and helps reduce fractures
Recommended by the physicians at InspireHealth Integrated Cancer Care