SISU Ester-C Energy Boost Variety Pack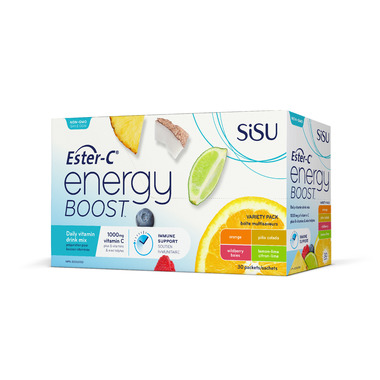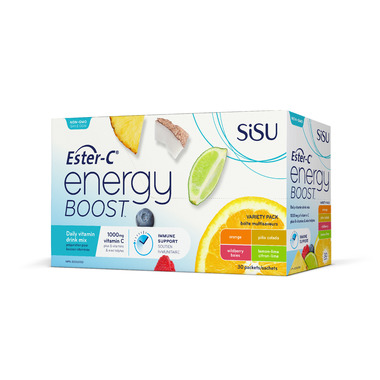 SISU Ester-C Energy Boost Variety Pack
Enjoy 24-hour immune support in an energizing, all-natural and non-carbonated drink mix. Single-serve packets of naturally sweetened Ester-C® Energy Boost come in a variety of delicious flavours for on-the-go convenience. This is the only vitamin drink mix that uses Ester-C vitamin C, which allows for easier digestion, absorption, and clincally-proven longer immune support. Just add to water to benefit from the vitamin C, B vitamins, electrolytes in each serving.
Flavours: Orange, Pina Colada, Wild Berry and Lemon-Lime
Features:
A daily vitamin drink mix with 1000 mg of vitamin C
24-hour immune support
Added B vitamins and electrolytes
Naturally sweetened without artificial flavours
Directions of Use:
Adult dosage-Take one packet 1-2 times daily with food. Dissolve in 250 mL of water or to taste.
Each packet (8 Grams) contains:
Medicinal ingredients: Vitamin C (calcium ascorbate) 1,000 mg from Ester-C® brand calcium ascorbate, Phosphorus (potassium phosphate, monobasic) 160 mg, Calcium (calcium ascorbate) 125 mg, Magnesium (magnesium hydroxide) 58 mg, Vitamin B6 (pyridoxine hydrochloride) 10 mg, Niacinamide 5 mg, D-pantothenic acid (calcium d-pantothenate) 2.5 mg, Zinc (zinc gluconate) 2 mg, Manganese (manganese (II) gluconate) 0.5 mg, Riboflavin (riboflavin 5'-phosphate sodium) 0.43 mg, Thiamine (thiamine hydrochloride) 0.38 mg, Folic acid (folate) 30 mcg, Vitamin B12 (cyanocobalamin) 25 mcg, Chromium (chromium (III) polynicotinate) 10 mcg.
Non-medicinal ingredients: Stevia rebaudiana leaf, malic acid, citric acid, sodium chloride, D-fructose, silicon dioxide. Orange: natural orange flavour, natural tangerine flavour, beta carotene, red beet powder. Wildberry: natural berry flavour, natural raspberry flavour, red beet powder. Lemon-Lime: natural lemon flavour, natural citrus flavour. Piña Colada: natural coconut flavour, natural pineapple flavour.