SISU Kids' Ester-C Chewable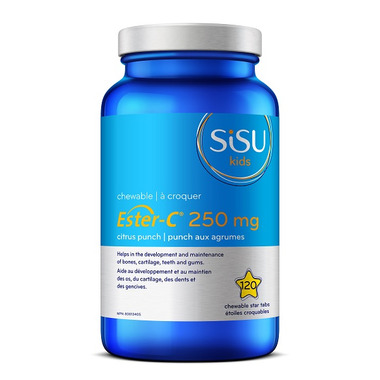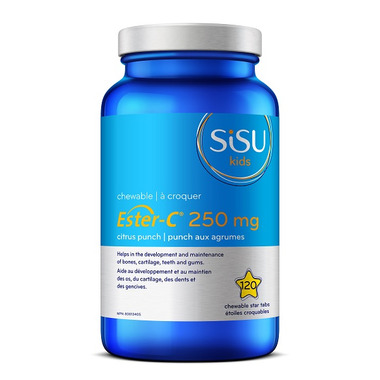 SISU Kids' Ester-C Chewable
SISU Kids' Ester-C Chewable helps in the development and maintenance of bones, cartilage, teeth and gums. An antioxidant for the maintenance of good health.
Features:
Ester-C® is a unique, patented form of calcium ascorbate, which is made when ascorbic acid (regular vitamin C) is buffered with calcium using a water-based process
The calcium in Ester-C® provides part of your daily calcium requirements
Ester-C® contains active vitamin C metabolites including L-threonate, which enhance cellular absorption and retention
Ester-C® is the only form of vitamin C that has been proven to last up to 24 hours in the white blood cells of the immune system
Less acidic and easier on the stomach than ascorbic acid
Ester-C® has a clinically proven higher bioavailability and retention rate than other forms of vitamin C
SISU Advantages:
Chewable, star-shaped, happy-face tablets
All-natural flavours and sweeteners
Suitable for vegans
Contains no ingredients that are a source of gluten
Good Manufacturing Practices standards
Tested for guaranteed purity and potency
NPN approved
Ingredients:

Medicinal: (per tab) Vitamin C...250 mg - from Ester-C® brand calcium ascorbate and sodium ascorbate
Non-Medicinal: stevia leaf powder, dextrose, fructose, citric acid, silicon dioxide, guar gum, strearic acid (vegetable), magnesium stearate (vegetable). Plus natural citrus punch flavour.
Dosage:
(Child 5+) Chew 1 to 2 tablets a day or as recommended by a health care practitioner.


Stephanie:
more than a year ago
I love SISU! They offer great quality, affordable supplements with our health in mind. I love how they have children's chewable Vitamin C (Ester C I might add) with no added sugars and many of their supplements are available in veg caps - something that is getting harder and harder to find. I appreciate this company so much and I recommend their products to everyone.
Page
1