Skinny B Breakfast Cereal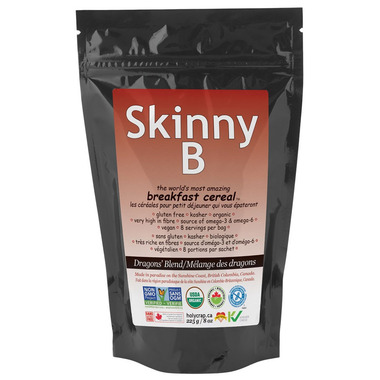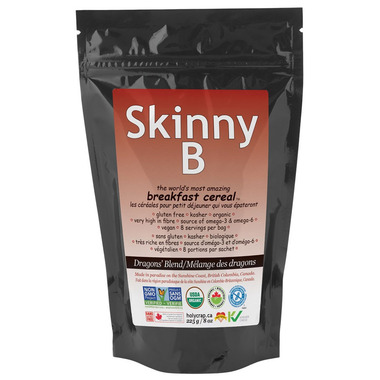 Skinny B Breakfast Cereal
Skinny B is a blend of ancient seeds that contains 50% more chia than Holy Crap. Its very high fiber content stabilizes blood sugar and aids in weight loss.
The ingredients are some of the oldest perfect foods known to humans.
The key ingredient, chia or salvia hispanica l. is a recently revived oil seed crop from the Americas that was once more valuable than gold to the Aztecs. The Tarahumara, the greatest long distance runners on the planet, have had a long history of using this slow burning rocket fuel for both athletes and warriors alike.
Mix with yogurt, milk, or non-dairy beverages. It works great in smoothies, too!
Features:

Non-GMO, Organic, Kosher, Gluten Free, Lactose Free, Salt Free, Vegan
High in fiber and iron, source of calcium, source of omega-3 and -6
Doesn't need to be cooked
Each bag is 8 oz (225g) and contains 8 servings
Ingredients: organic chia, organic buckwheat, organic hulled hemp seeds.


Carmen:
more than a year ago
This is tasty, though I would describe it as a chia pudding rather than a cereal. The serving on the package isn't enough for a meal, but is good along with other food or as a snack. I like it best with 2 tbsp. yogurt and 4 tbsp. almond milk added. You can also add a variety of sweet spices, extracts, fruit and/or nuts to keep it interesting.
Page
1