Skip Hop Pronto Changing Station
Flame Yellow Print by Jonathan Adler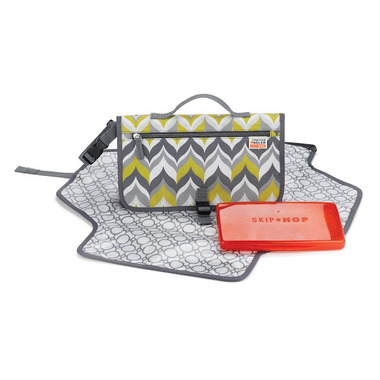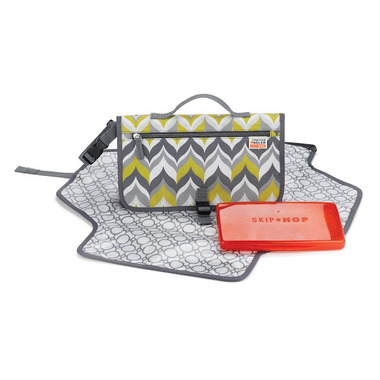 Skip Hop Pronto Changing Station
Flame Yellow Print by Jonathan Adler
The Pronto changing station, by Skip Hop, is a portable diapering essentials kit that ensures that baby is always clean, dry and happy, and that mom and dad are always prepared.
Drop it in any bag, strap it to your wrist or clip it to your stroller and you're good to go!
Features:
Front Zipper Pocket - for keys, wallet, phone, etc
Strap w/ Clip - hangs on stroller or wrist
Pronto Pillow - innovative head-cushion keeps baby safe & comfy
Mesh Pocket - holds up to four large diapers, creams and other essentials
Translucent Wipes Case - see-through for timely reloads
Two-In-One pad zips off for independent use
Changing Pad - extra-wide for wiggly babies, wipes clean, laminated mod pattern

Size - closed: 8 3/4" x 11 1/2" x 1"; changing pad size: 21 1/2" x 21 1/2" (at widest point)
RJ:
more than a year ago
I just travelled with my 4 month old son for the first time and this was the single most useful thing j brought with me! I used it in the airport, the plane, the car, the hotel, and at various relatives houses. It fits a good amount of diapers (I think I had 6 or 7 size threes in there a few times) as well as some extra room in the front zipper pocket for whatever else you need, I kept a toy in it to entertain my little ones hands during diaper changes! This change clutch is money well spent for sure!
Page
1