Smart Solutions Lorna Vanderhaeghe PROTEINsmart With CLA Vanilla
Lorna Vanderhaeghe PROTEINSmart Women's Whey With CLA
is rated out of
5
by
1
.

Protein is an essential macronutrient needed to help support the body in rebuilding, repairing and regenerating tissues. Whey protein in particular is the highest source of essential amino acids. Inadequate protein consumption can lead to health conditions like osteoporosis, weakened immune function, decreased muscle mass, and weak hair, skin and nails. The natural ingredients in PROTEINsmart have been carefully selected to promote the health of women, who often do not get enough protein from their diet. The addition of CLA, helps to improve cell growth, increase fat loss, regulate blood sugar and support cardiovascular health.

Features:
Contains hormone-free, gluten-free, soy-free whey protein isolate
Contains an effective dose of conjugated linoleic acid (CLA)
Aids weight loss with no diet change
Balances blood sugar
Controls appetite
Delicious natural vanilla

Directions: For maximum weight loss, add two scoops of Proteinsmart with CLA to 500 mL of cold water at breakfast. Shake vigorously until thick and creamy. Two scoops provides 40 grams of protein and 5000 mg of CLA. When you solely have protein for breakfast, your fat-burning furnace is increased by 25 percent and it will stay that way for four hours or more.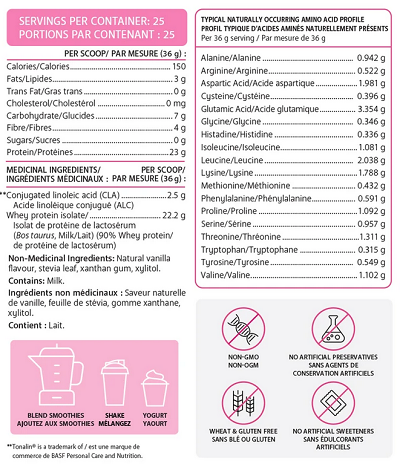 Cautions:
Consult a practitioner prior to use if you are obese, have CVD risk factors, liver or kidney disease, are pregnant or breastfeeding, want to achieve weight loss, or for use beyond 6 months.
Contraindicated in CVD, diabetes, insulin resistance, metabolic syndrome and dairy allergies. May cause mild gastrointestinal disturbances.

Rated

5

out of

5
by
Ally
from
My Favorite Protein Powder!
I order this product regularly and enjoy a shake on a daily basis. Throw in some berries and avocado and voila! a great meal.
Date published: 2020-06-22