SmartyPants Gummy Vitamins Family Bundle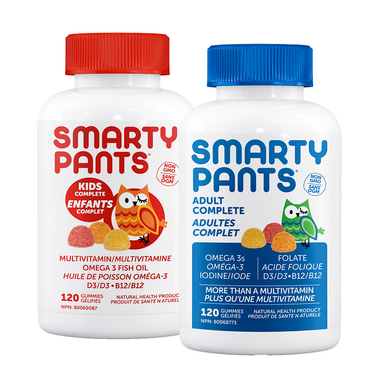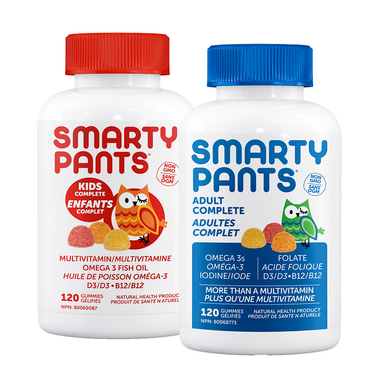 SmartyPants Gummy Vitamins Family Bundle
Something the whole family can benefit from with the SmartyPants Gummy Vitamins Family Bundle. Packed with ten essential nutrients and omega 3 DHA and EPA fish oils this is more that just a multivitamin.
Bundle Includes:
SmartyPants Kids Complete - 120 Gummies
SmartyPants Adult Complete

SmartyPants Kids CompleteDosage:
Take 4 gummies per day.
Ingredients:
Vitamin A (as retinyl palmitate) Vitamin C (as ascorbic acid) Vitamin D (Vitamin D-3 as cholecalciferol) Vitamin E (as d-alpha-tocopherol from sunflower oil) Thiamin (Vitamin B-1 as thiamine mononitrate) Vitamin B-6 (as pyridoxine HCI) Folic acid Vitamin B-12 (as methylcobalamin) Iodine (as potassium iodide) Zinc (as zinc citrate) Fish Oil (from anchovy and sardine) EPA (Eicosapentaenoic Acid) DHA (Docosahexaenoic Acid) Total Omega-3 Fatty Acids Choline (as choline citrate) Inositol Zinc Calcium D-Pantothenate Biotin Riboflavin Other Ingredients: Organic Cane Sugar, Organic Tapioca Syrup, Gelatin, Pectin, Citric Acid, Natural Flavors (Orange, Lemon, Strawberry-Banana), Colors Added (Organic Black Carrot Juice Concentrate, Annatto, Organic Turmeric)
SmartyPants Adult CompleteDosage:
Take 6 gummies per day.

Ingredients:
Vitamin A (as retinyl palmitate) Vitamin C (as ascorbic acid) Vitamin D (Vitamin D-3 as cholecalciferol) Vitamin E (as d-alpha-tocopherol from sunflower oil) Thiamin (Vitamin B-1 as thiamine mononitrate) Vitamin B-6 (as pyridoxine HCI) Folic acid Vitamin B-12 (as methylcobalamin) Iodine (as potassium iodide) Zinc (as zinc citrate) Fish Oil (from anchovy and sardine) EPA (Eicosapentaenoic Acid) DHA (Docosahexaenoic Acid) Total Omega-3 Fatty Acids Choline (as choline citrate) Inositol Zinc Calcium D-Pantothenate Biotin Riboflavin Other Ingredients: Organic Cane Sugar, Organic Tapioca Syrup, Gelatin, Pectin, Citric Acid, Natural Flavors (Orange, Lemon, Strawberry-Banana), Colors Added (Organic Black Carrot Juice Concentrate, Annatto, Organic Turmeric)