SmartyPants Women's Complete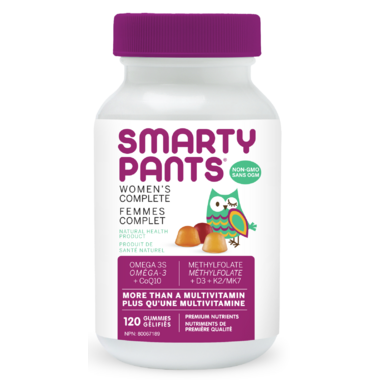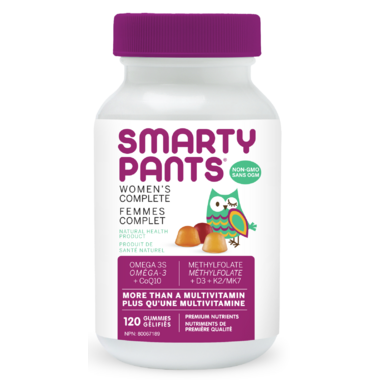 SmartyPants Women's Complete

SmartyPants Women's Complete is more than just a multivitamin, it includes ten essential nutrients and omega 3 DHA and EPA fish oil – all in one.
Features:
Omega 3s for brain health
Folate for detox support
Vitamin K2 and D for bone health
CoQ10 for heart health
Biotin for healthy skin, hair, and nails
Iodine for thyroid function
B12 for mental focus and energy metabolism
*These statements have not been evaluated by the Food and Drug Administration. This product is not intended to diagnose, treat, cure, or prevent any disease.
Dosage:
Take 6 gummies per day.
Ingredients:
Vitamin A (as retinyl palmitate) Vitamin C (as ascorbic acid) Vitamin D (Vitamin D-3 as cholecalciferol) Vitamin E (as d-alpha-tocopherol from sunflower oil) Thiamin (Vitamin B-1 as thiamine mononitrate) Vitamin B-6 (as pyridoxine HCI) Folic acid Vitamin B-12 (as methylcobalamin) Iodine (as potassium iodide) Zinc (as zinc citrate) Fish Oil (from anchovy and sardine) EPA (Eicosapentaenoic Acid) DHA (Docosahexaenoic Acid) Total Omega-3 Fatty Acids Choline (as choline citrate) Inositol Calcium D-Pantothenate Biotin Riboflavin Niacin, CoQ10 Biosynthesis Vitamin E Other Ingredients: Organic Cane Sugar, Organic Tapioca Syrup, Gelatin, Pectin, Citric Acid, Natural Flavors (Orange, Lemon, Blueberry), Colors Added (Organic Black Carrot Juice Concentrate, Annatto, Organic Turmeric), Carnauba Wax, medium Chain Triglycerides from Coconut Oil