Smile Natural Foods Wholefood Blend Cranberry
Organic Superfood Blend
200g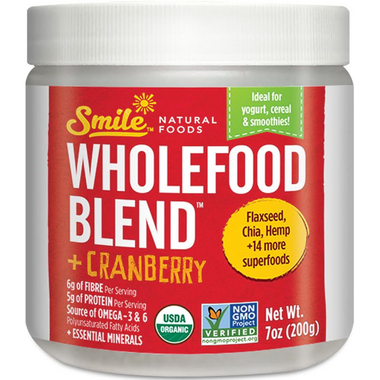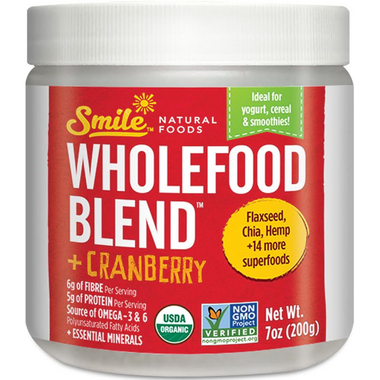 Smile Natural Foods Wholefood Blend Cranberry
Organic Superfood Blend
200g
Let's face it, the same old yogurt is just not exciting anymore. It's time to sprinkle on some good with this energizing blend loaded with plump cranberries for a naturally sweet surprise and complimented by nutty pumpkin seeds for their amazing benefits of Magnesium and Zinc.
Smile Wholefood Blends are an all-in-one organic superfood boost for any meal, anytime. Each are packed with Flaxseed, Chia, Hemp + 14 more superfoods to give you what you want to power through your day. They believe feeling good starts from the inside.
Their superfoods are milled using a proprietary PureMill™ process to protect nutrients and to aid in absorption. That's how their Wholefood Blends provide a great source of Omega's, Fiber, Protein, enzymes, antioxidants plus essential vitamins and minerals.

Health Benefits:
Omega-3 & 6 Polyunsaturated Fats - to give your heart some love
6g of Fibre - to support your digestive health
5g of Protein - to help build & repair strong muscles
+Antioxidants - to help protect against damage from free radicals
+Essential Minerals like Magnesium & Iron
Features:
USDA Organic Certified
Non-GMO Project Verified
Vegan Friendly
Kosher Certified
No added sugar, no sulfites
No artificial flavours or colours
Add to:
Yogurt
Smoothies
Cereals
Oatmeal
Salads & Dressing
Muffins & other baked goodies
Fruit
Made in Canada!