Solar Raw Ultimate Organic Kale Chips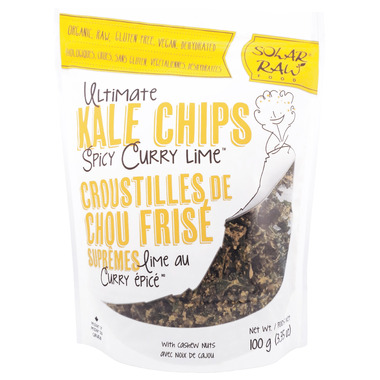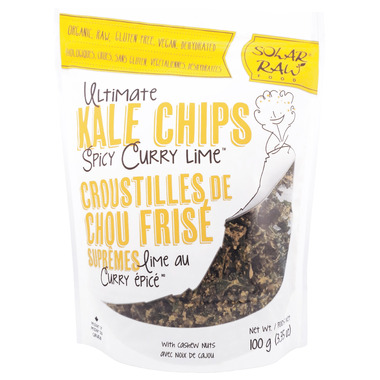 Solar Raw Ultimate Organic Kale Chips
Solar Raw Food™ is committed to providing the highest quality Raw Food products in the most responsible manner. Their kale is grown organically, and seasoned on site with only the freshest raw ingredients. Located on their Canadian family farm, the kale chip facility operates on the sustainable power of photovoltaics Solar Energy.
Kale is an excellent source of essential nutrients and vitamins, including vitamin A, C, B6, manganese, dietary fiber, calcium, copper and potassium. In addition to this combination of vitamins, minerals, and phytonutrients, Kale is also highly alkaline – an impressive superfood.
Leafy greens, like these kale chips, are a great stress-busting food. To learn more about foods that help to relieve stress, check out our blog.

Features:
Organic
Canadian
RAW
Vegan
Gluten Free
Rich in Phytonutrients and Enzymes
Family Farmed and Owned
Sustainably Grown
Ingredients: Fresh kale*, pre-soaked cashew nuts*, pre-soaked sunflower seeds*, coconut sap* (Coco-Natura™ - low GI), Engevita® nutritional yeast, fresh lime juice, fresh ginger*, curry spice blend*, Lumière de Sel® Himalayan Salt. *organic. Contains nuts.