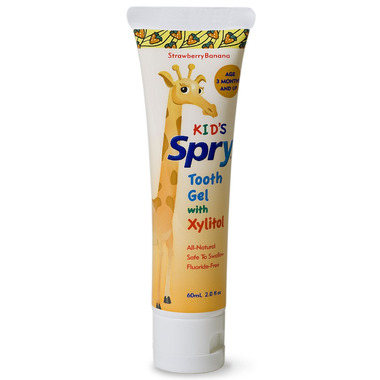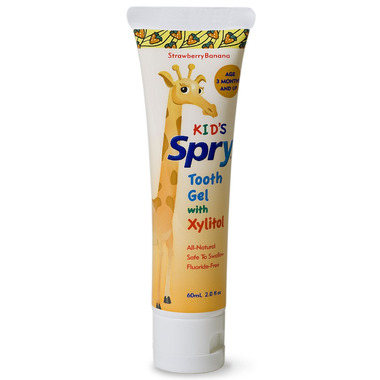 Spry Kid's Tooth Gel has been especially developed to be used in building the oral health of infants and children. Formulated with a rich supply of xylitol and calcium, regular usage of Kid's Spry Tooth Gel supports the absorption of calcium for the development of healthy tooth enamel. Research into the effects of xylitol have led to the discovery that when xylitol is applied to the teeth as the enamel matrix is being formed, xylitol can significantly strengthen the structure of the tooth enamel—to the degree that even when xylitol application is discontinued, the tooth friendly effects continue on. Regular usage of Kid's Spry Tooth Gel can have a dramatic effect on improving oral health while also giving kids the chance to learn healthy hygiene habits in a fun and effective way.
Kid's Spry Tooth Gel has been designed and formulated with safety in the forefront. The tooth gel gently coats your child's mouth with Xylitol, and because it contains no artificial ingredients and is fluoride-free it is completely safe to swallow.
To achieve all the benefits Spry Tooth Gel has to offer your child, simply apply a small amount of gel (pea-sized) to the baby's tooth brush and gently brush his or her teeth and gums. Make sure the brush is clean and safe for your baby's mouth. Repeat this process two to three times each day (morning, noon and night), and your child will be on his or her way to a lifetime of better health!
The benefits of Spry Tooth Gel continue well beyond the time your baby moves past the "baby stage." For toddlers and children up to eight years old, continue to put two to five drops of Spry Tooth Gel on any soft bristle brush and gently brush their teeth.
Features & Benefits:
All-natural
Contains 35% xylitol
Provides calcium glycerophosphate
Fluoride-free
Gel formula—will adhere to teeth
Dentist and hygienist recommended
High xylitol content ensures efficacy
Helps in development of tooth enamel
Safe to be swallowed
Easy to apply
Ingredients: Purified Water, Xylitol, Calcium Glycerophosphate, Cellulose Gum (thickening agent), Natural Strawberry & Banana flavoring, Grapefruit Seed Extract, as a preservative.