St. Francis Herb Farm EchinAce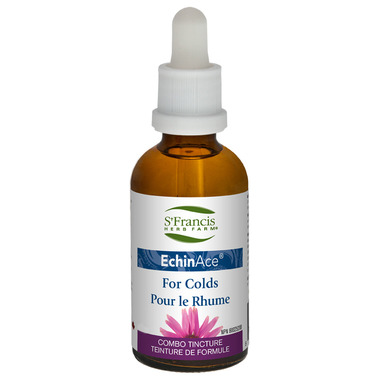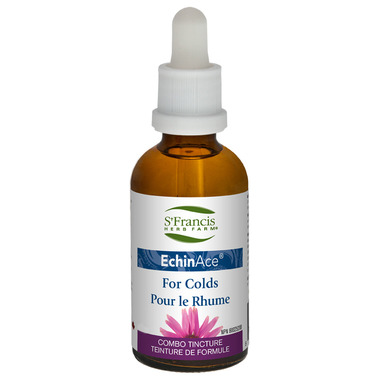 St. Francis Herb Farm EchinAce
EchinAce helps relieve the symptoms and shorten the duration of upper respiratory tract infections (e.g. common colds).

Suggested Usage: All doses should be taken 3x daily in a little water on an empty stomach.

Adults and adolescents (15 & over): 2 ml (60 drops)
Adolescents (10-14 years): 1 ml (30 drops)
Children (5-9 years): 0.5 ml (15 drops)
Children (2-4 years): 0.3 ml (10 drops)

Medicinal Ingredients (per 1 ml): Echinacea top and root (Echinacea purpurea) 0.667 ml (1:1, QCE 667 mg); Echinacea root and rhizome (Echinacea angustifolia) 0.333 ml (1:4, QCE 83 mg)

Non-Medicinal Ingredients: Distilled water, Grain alcohol

Cautions and Warnings: Consult a health care practitioner before use: if you have a progressive systemic disease such as tuberculosis, leukosis, collagenosis, multiple sclerosis, AIDS and/or HIV infection; if you have an immune disorder or you are taking immunosuppressants. Consult a health care practitioner if symptoms worsen or persist.

Contraindications: Do not use if you are allergic to plants of the Asteraceae/Compositae/Daisy family.

Known Adverse Reactions: Hypersensitivity/allergy has been known to occur, in which case discontinue use.

Susan:
more than a year ago
I have been using the St. Francis EchinAce for awhile now when we have sore throats or cold symptoms or if we were near people that were sick to help prevent us getting it. If we have a sore throat we put about 30 0r 40 drops in a med cup with a little distilled water and gargle with it to help soothe the throat and then swallow it. I was first introduced to this from my herbalist I go to. I was glad to fine it at Wells.ca cheaper. The picture shows a dropper bottle but the 250 ml. bottle is a bigger bottle without the dropper but I already had a dropper bottle so I just keep refilling it. I have also used this when I have an allergy attack as well.
Page
1