St. Tropez Self Tan Dark Bronzing Lotion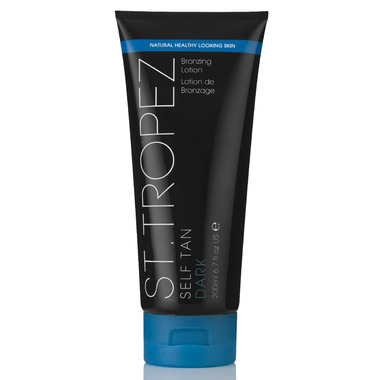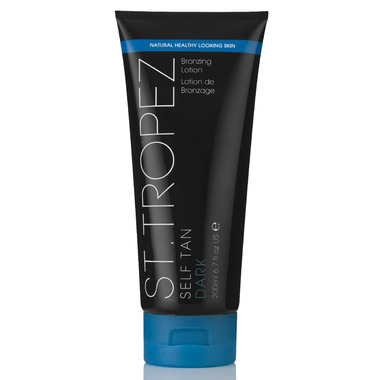 St. Tropez Self Tan Dark Bronzing Lotion
St. Tropez Self Tan Dark Bronzing Lotion is an ultra-absorbent dark lotion containing extra skin conditioners and protective ingredients (such as antioxidants to prevent oxidative stress) to provide an even, streak-free tan. Simply smooth on with latex gloves for a gorgeous, even tan.

This dark bronzing lotion is ideal for anyone who wants a deeper, darker, more intense, even, streak-free tan with incredible colour. Whether you have pale or dark skin, St. Tropez Dark Bronzing Lotion will tailor itself to your skin tone to give you a richer-looking self tan.

What sets St. Tropez Self Tan Dark Bronzing Lotion apart?

St Tropez Dark Self Tan range is designed to provide their darkest, most intense colour yet. The advanced formulation contains innovative melanin technology that ensures your tan is tailored to suit your individual skin-tone. This lotion contains St. Tropez's Aromaguard fragrance technology that helps to virtually eliminate the tell tale self tan aroma by up to 70%.

Features:
Hydrating cream with guide colour
Luxurious salon application
Non greasy & streak free
Ideal for face and body
Tan lasts approximately 7-10 days
Paraben Free
Directions: Exfoliate the day before you tan. Moisturize any dry areas (elbows, knees, ankles, and feet) thoroughly. Protect light areas at eyebrow and hairline with extra moisturizer. Pump the velvety lotion into a mitt and smooth from top to toe, making sure you're well covered. Wait until touch dry before dressing. Avoid getting wet or exercise for at least four hours, leave on for eight hours or more before showering for best results.