Steve's PaleoGoods Nutty Butter PaleoBar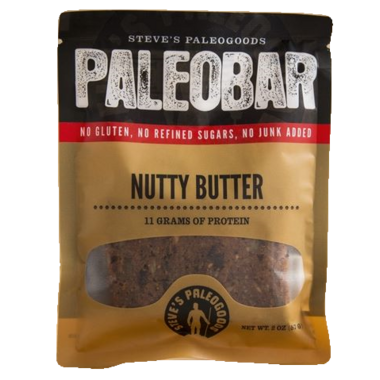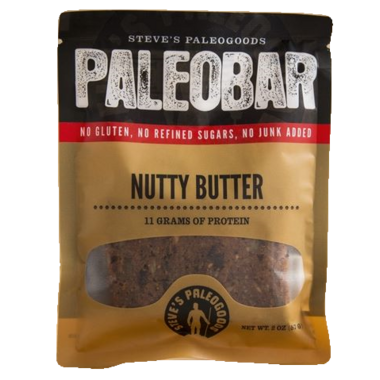 Steve's PaleoGoods Nutty Butter PaleoBar
The Nutty Butter PaleoBar combines the delicious taste of some of your favorite PaleoKrunch ingredients. Almonds, coconut, seeds, sea salt and a touch of honey, lovingly blended together with REAL egg whites. The result? Only the BEST protein bar that you've ever eaten! Each bar has 11 grams of protein and is packed with your favorites: almonds, sunflower seeds, coconut and just a hint of sea salt. You'll be nutty about this delicious Nutty Butter PaleoBar. PaleoBars fit easily into your to-go bag and your healthy lifestyle. Pair it with some jerky for a complete meal, or eat it alone for a healthy and delicious snack.
Steve's is a small family owned and operated business since 2008. Their products are made by hand in small batches, using the best ingredients, as close to nature as possible. Handmade is the Paleo way!
Ingredients:
Almonds, Egg Whites,
Coconut, Pumpkin Seeds, Sunflower Seeds,
Honey,
Coconut Oil, Sea Salt, Baking Soda.
PRODUCED IN A FACILITY THAT USES NUTS.
Nutritional Info:
Serving Size 2 ounces (57g)
Servings Per Container 1
Amount Per Serving
Calories 240
Calories from Fat 150
Total Fat 17g 27% Daily Value
Saturated Fat 5g 27% Daily Value
Cholesterol 5mg 2% Daily Value
Sodium 150mg 6% Daily Value
Total Carbohydrate 13g 4% Daily Value
Dietary Fiber 4g 12% Daily Value
Sugars 7g
Protein 11
Vitamin A 0%
Vitamin C 0%
Calcium 6% Daily Value
Iron 10% Daily Value