Stonewall Kitchen Blueberry Pancake & Waffle Mix
Stonewall Kitchen Blueberry Pancake & Waffle Mix
Light, fluffy and full of blueberries!
Stonewall Kitchen Blueberry Pancake Mix is loaded with the goodness of Maine wild blueberries and is made from a special blend of ingredients that make light and fluffy pancakes unlike any other pancake mix you may have tried. Honest to goodness taste sensations abound when you top them with our Wild Maine Blueberry Syrup. More please!
Features:
Loaded with Maine blueberries
Light and fluffy goodness
Divine malted flour offers a hint of vanilla
Made in USA
Ingredients:
Malted Wheat Flour, Corn Flour, Blueberries, Buttermilk, Monocalcium Phosphate, Baking Soda, Salt, Natural Flavor.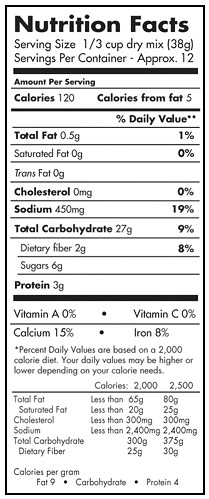 Caroline:
more than a year ago
The blueberries are a disappointment. They are tiny and dried up and are sub-par in taste, there are many of them so they ruin the taste of the pancake. The pancake itself if you respect the recipe and use a griddle ( you can add more butter, but don't add more milk ) is quite good. The other plain mix would be better than, I will buy again but the plain one. You can always add your own berries to the mix if you're into that.
Page
1