Sudsatorium Ice Man Cometh Shower Gel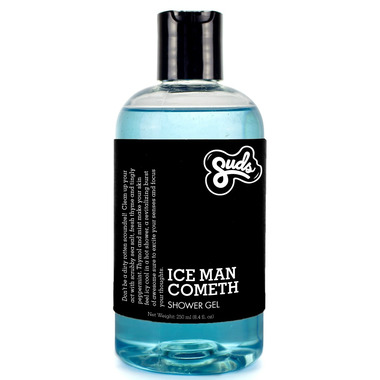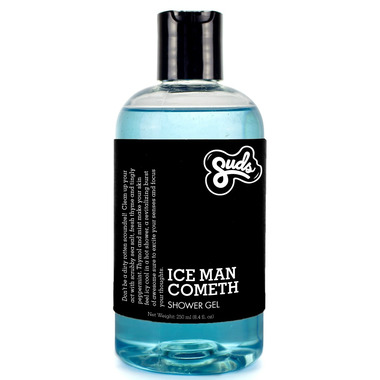 Sudsatorium Ice Man Cometh Shower Gel
Don't be a dirty rotten scoundrel! Clean up your act with scrubby sea salt, fresh thyme and tingly peppermint. Thymol and mint make your skin feel icy cold in the hot shower, a revitalizing burst of awesome sure to excite your senses and focus your thoughts.

Featured Ingredients:
Icy Hot: Fun fact - Menthol makes your skin feel cool by triggering your cold-sensitive TRPM8 receptors beneath the surface of your skin. All you really need to know is that this sensation feels terrific
Peppermint Patty: Refreshing, mentally stimulating and energizing, peppermint essential oil offers a balancing, stabilizing effect

Thyme of Your Life: Thyme oil has bactericide, antiseptic, antimicrobial, astringent and anti-fungal properties that absolutely rock when it comes to washing up properly

Directions: Get naked, hop in the shower and lather up. If you're in a hurry (or just a little lazy!) this shower gel make an excellent shampoo in a pinch.
Ingredients: Fresh Organic Peppermint and Organic Thyme Infusion (Mentha Piperita and Thymus Vulgaris and Aqua), Palm-Free Coco Glucoside, Palm-Free Decyl Glucoside, Palm-Free Sodium Cocoyl Isethionate, Lactobacillus Ferment (Leuconostoc/Radish Root Ferment Filtrate and Lactobacillus and Cocos Nucifera Fruit Extract), Fine and Coarse Hand Harvested Sea Salt (Sodium Chloride), Gluconolactone, Aspen Bark Extract (Populus Tremuloides), Palm-Free Glyceryl Caprylate (and) Palm-Free Glyceryl Undecylenate, Sodium Citrate, Sclerotium Gum (Sclerotium Rolfsii), Fair Trade Organic Menthol Crystals (Mentha Arvensis), Organic Japanese Peppermint Oil (Mentha Arvensis), Organic Thyme Oil (Thymus Vulgaris), Fair Trade Organic Peppermint Oil (Mentha Piperita), Organic Spirulina Extract (Arthrospira Platensis)