Sudsatorium Lady Is A Vamp Lip Tint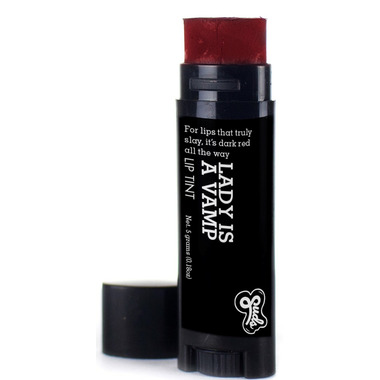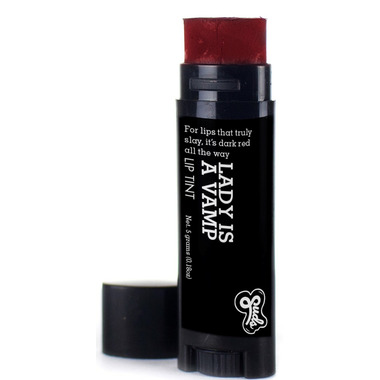 Sudsatorium Lady Is A Vamp Lip Tint
Apple reds, corals and fuchsias are fair game for most gals, but for lips that truly slay, it's dark and vampy all the way. Whether you lay it on in one pass for a sheer just-bitten wash of black cherry or build it up in layers for truly demure deep aubergine smoochers, the beauty lies in this balm's adaptability. Slay the competition with this softening, sexy colour made with fresh dates and cherries for deliciously, kissable lips. Fair Trade cocoa butter and nourishing jojoba oil soften and moisturize, while a hint of black peppers adds pep to your kisses.

Featured Ingredients:
Very Cherry: Cherries come from the same family as prunes and plums, and are known for their detoxifying and antibacterial properties

Date Night: The dry, yet sweet and succulent date are a popular snack in the Middle East Asia. Belonging to the drupe family of fruits, these are available in a multitude of colors, shapes, and sizes, depending on their site of origin. However, the benefits they gift for your skin and hair remains the same. Loaded with assorted minerals including calcium, iron, copper, magnesium, manganese, folic acid, and sulfur and proteins and vitamins, these are rich sources of fiber too.

Directions: Prep your pout first by scrubbing down with one of the Sudsatorium lip scrubs. Apply your lip tint and get ready for colourful smooches.

Ingredients: Organic Jojoba Oil (Simmondsia Chinensis), Fair Trade Organic Shea Butter (Butyrospermum Parkii), Organic Carnauba Wax (Copernicia Cerifera), Fresh Organic Date Decoction (Phoenix Dactylifer and Simmondsia Chinensis), Organic Cherry Powder (Prunus Avium), Organic Black Pepper Oil (Piper Nigrum), Organic Benzoin Resinoid (Styrax Tonkinensis), Organic Grape Skin Extract (Vitis Vinifera), Organic Purple Sweet Potato Extract (Ipomoea Batatas), Organic Beet Extract (Beta Vulgaris)