Sudsatorium Little Briar Rose Lip Balm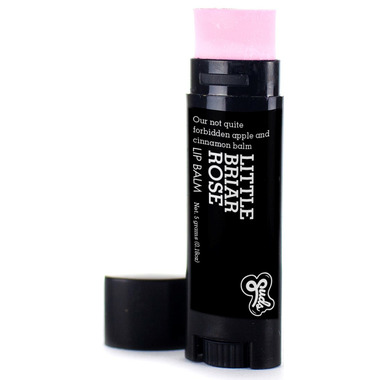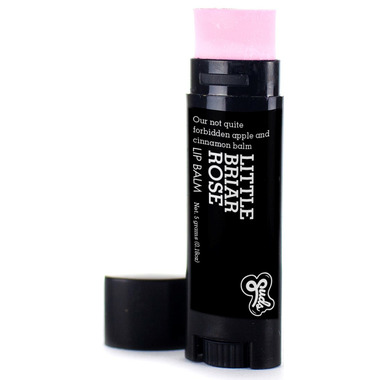 Sudsatorium Little Briar Rose Lip Balm
Sleeping Beauty would never have had to wait so long for Mr. Right to show up had she been using our Little Briar Rose lip balm. Give yourself the most kissable lips imaginable with our organic apple infused, spicy warming cinnamon lip balm with just a hint of pure dairy-free Fair Trade Belgian white chocolate.

Featured Ingredients:
Meat Me Half Way: Extra virgin coconut oil is the Aston Martin of skincare ingredients. Capable of reducing the symptoms of psoriasis and eczema as well as restore natural balance and healthy glow to skin, Sudsatorium loves using coconut oil because of how it softens and moisturizes lips in need of care and attention
Feel the Burn: Beloved the world over for its spicy aroma and exotic tongue-warming flavour, cinnamon essential oil creates an uplifting scent capable of fighting fatigue and lightening moods.

Apple of My Eye: From Adam and Eve to Greek mythology, the humble apple has had a prominent role in the legends of many countries, both as a delicious source of sustenance and a symbol of temptation. Skin softening properties present in both the skin and juice make apples a mainstay in many of our skincare applications including lip balms

Directions: Apply liberally to your lips and get ready for smooches. For optimal results, prep your pout by scrubbing down first with your fav Sudsatorium lip scrub

Ingredients: Organic Jojoba Oil (Simmondsia Chinensis), Fair Trade Organic Cocoa Butter (Theobroma Cacao), Organic Carnauba Wax (Copernicia Cerifera), Fair Trade Organic Vegan White Chocolate (Theobroma Cacao and Sucrose and Lecithin), Fair Trade Organic Cinnamon Bark Oil (Cinnamomum Zeylanicum), Organic Apple Flavour (Gum Acacia and Flavours), Organic Beet Root Extract (Beta Vulgaris)




Gabrielle:
a couple of weeks ago
I ordered this in conjunction with their lip polish (which is amazing!!) but the lip balm is not exactly what I was expecting.

Pros: Smells unlike any other lip balm! The apple is so nice! Stays on well as it more of a waxy feel, so it creates a barrier for your lips.

Con: It doesn't go on smoothly. You really have to warm up the product in order to apply it. Also, the tint is not really all that visible. Was expecting a little more pink like the photo portrays.

It's still a nice product, but not exactly my favourite lip balm. Love the names though!
Page
1