SugaVida Spicy Ginger Instant Original Turmeric Drink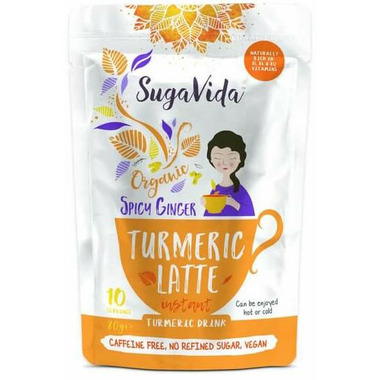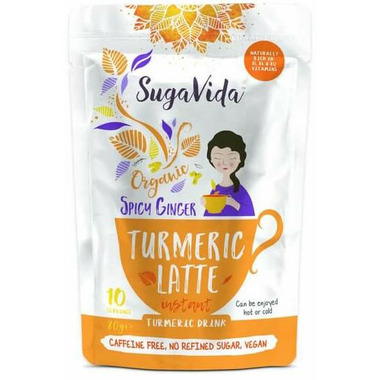 SugaVida Spicy Ginger Instant Original Turmeric Drink
A modern-day health elixir enriched with ancient healing properties, SugaVida Turmeric Lattes are naturally sweet, delicately spiced, and bursting with B vitamins, essential minerals, and health boosting ingredients to promote an overall feeling of wellbeing.
Features:

Powerful antioxidant & anti-inflammatory properties
Supports digestive health
Naturally rich in B vitamins and minerals
Source of bioavailable vitamin B12
Contains secret ingredient SugaVida; our nutritious natural sweetener
Great Taste Award winning (Cardamom – 2 gold stars, Original – 1 gold star)
100% Organic – no GMO
Contains high grade, hand roasted turmeric
Low GI
Available in 3 delicious flavours
Gluten, dairy, caffeine & refined sugar free
Mixes well with all types of milk and water
Suitable for vegans
Health benefits include: Pain relief, natural defense against cancer, the elixir of youth and super charges the immune system
Ways to enjoy it:
Hot Turmeric Latte
To enjoy SugaVida Turmeric Latte's hot, simply mix a heaped teaspoon with a cup of your favourite heated milk or hot water and whisk gently to release the delicate aromas. A popular alternative to coffee, it's caffeine free, so you can enjoy it throughout the day and as a bedtime treat to help you sleep.

Cold Turmeric Latte
If you prefer to start your day with a chilled smoothie or protein shake, add SugaVida Instant Turmeric Latte to the mix for a healthy boost. It mixes effortlessly with milk, water, and even raw fruit juices, so you can create your own concoction, and enjoy it on the rocks or beautifully blended.

Stir into Everything
The beauty of SugaVida Turmeric Latte Mix, is that it blends with everything. Stir half a teaspoon into your daily porridge, your favourite yogurt, or a fruit-packed smoothie, or blend with honey and pour over a bananas and berries for a tasty midday snack.

Add to Your Favourite Recipes
SugaVida Turmeric Latte can be added to virtually any hot or cold recipe to create a delicious and nutritious meal. For a savoury treat, try adding a teaspoon to your favourite cauliflower rice, zucchini spaghetti or gluten-free sweet potato bake to enjoy its health boosting benefits. Those with a sweet tooth can add a spoonful of turmeric latte mix to coconut cream, Greek yogurt or ice cream, sprinkle with honey and nuts, and enjoy!
Ingredients:
Organic Palmyra Blossom Sugar (SugaVida - contains PalmyrinTM)
Organic Turmeric powder, Organic Black Pepper, Organic Cinnamon powder, Inulin powder, Ginger extract and Coconut extract.