SUKU Vitamins Family MultiVitamin Bundle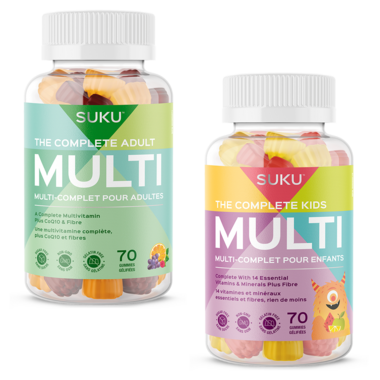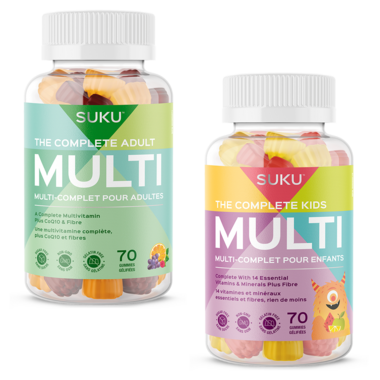 SUKU Vitamins Family MultiVitamin Bundle



The SUKU Vitamins Family Multivitamin Bundle is packed with essential vitamins and minerals for the comprehensive maintenance of your family's health.

Bundle Includes:
Vitamins The Complete Adult Multi - 70 Gummies
Vitamins The Complete Kids Multi - 70 Gummies
Adult Multi Details:
SUKU Vitamins' Complete Adult Multi an a comprehensive multivitamin with added CoQ10 and soluble prebiotic fibre designed for optimal daily nutritional support. This multi is packed with essential vitamins and minerals and is a great source of antioxidants for the maintenance of good health.
Features:

An effective combination of vitamins, minerals, nutrients, and antioxidants specifically designed for adults
Added CoQ10 as a source of antioxidants and to support cardiovascular health
Optimal dose of vitamin D3 to support bone, muscle, and immune health
Helps in the function of the thyroid gland and helps to maintain normal production of thyroid hormones
Helps to support liver function
Suitable for vegetarians
A source of fibre (3g per serving)
Free of sugar and sugar alcohols
Free of gelatin and made with plant-based pectin
Recommended Dosage:
Adults: Take 2 gummies daily
Active Ingredients: Vitamin A, Vitamin C, Vitamin D, Vitamin E, Vitamin B1, Vitamin B2, Folic Acid, Vitamin B12, Biotin, Vitamin B5, Iodine, Zinc, Choline, Inositol, CoQ10
Non-active ingredients: Tapioca Syrup, Purified Water, Natural Fruit Flavour, Carrageenan, Pectin, Sodium Citrate, Citric Acid, Stevia Leaf Extract, Coconut Oil, Carnauba Wax, Beta-carotene, Black Carrot Juice, Spirulina Platensis Extract

Children's Multi Details:
This is just what they need. A specially formulated, great tasting sugar-free multi packed with essential vitamins, minerals and prebiotic soluble fibre that supports your little ones' biological functions which play a key role in the maintenance of good health.
Features:
A complete multivitamin with 16 essential vitamins, minerals and fibre
A source of vitamins and minerals to support biological functions which play a key role in the maintenance of good health
Suitable for vegetarians
A source of fibre (3g per serving)
Free of sugar and sugar alcohols
Free of gelatin and made with plant-based pectin
Recommended Dosage:
Children 3 to 9 years: Take 2 gummies once per day
Children & Adolescents 9 to 13 years: Take 2 gummies twice per day
Adolesents 14 to 18 years: Take 2 gummies 3 times per day
Active Ingredients:
Vitamin A, Vitamin B6, Vitamin B12, Pantothenic Acid, Folate, Vitamin C, Vitamin D, Vitamin E, Biotin, Iodine, Zinc, Choline, Inositol, Niacin
Non-active ingredients:
Tapioca Syrup, Purified Water, Natural Fruit Flavour, Carrageenan, Pectin, Sodium Citrate, Beta-carotene, Black Carrot Juice, Spirulina Platensis Extract, Stevia Leaf Extract, Coconut Oil, Carnauba Wax