Sun Warrior Classic Plus Protein Vanilla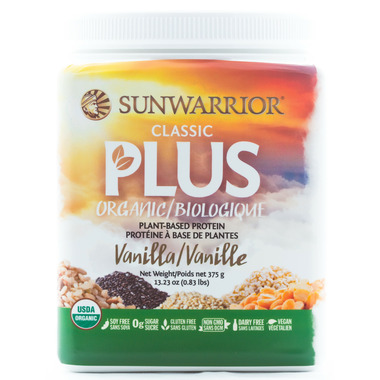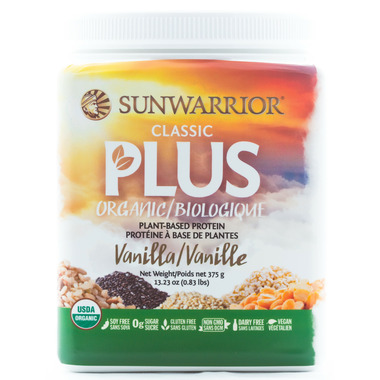 Sun Warrior Classic Plus Protein Vanilla
Sunwarrior Classic Plus Protein builds on their original rice protein by adding in the amino acid balancing effects of peas, chia seeds, quinoa, and amaranth. This superfood combination still relies heavily on the gentle nature of whole-grain brown rice, but with a hefty dose of the strength that has made Warrior Blend so popular.
Features:
Organic, Soy Free
No Sugar Added
Gluten Free
Non GMO
Dairy Free
Vegan
Packaging is BPA Free & Recyclable
Pre & Post Workout
No Synthetic and Artificial Ingredients
Branched Chain Amino Acids (BCAAs)
Great tasting & smooth
Highly Digestible
Directions:
Mix, shake, or blend protein powder with your favorite beverage. Once you master the beverage, try adding fruit, greens, superfoods, boosters, spices, ice, and more to make smoothies that are as unique, delicious, and super swanky as you are.
Ingredients:
Proprietary Protein Blend (Organic Pea, Organic Brown Rice, Organic Quinoa, Organic Chia Seed, Organic Amaranth), Organic Vanilla Flavour, Ancient Sea Salt, Organic Guar Fiber, Organic Stevia Extract