Suro Cold & Flu Treatment Bundle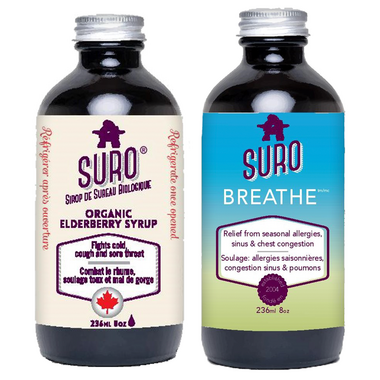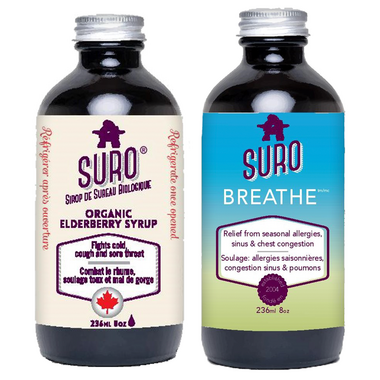 Suro Cold & Flu Treatment Bundle
Natural cold and flu relief developed by a naturopathic physician. Canadian made!

Bundle Includes:
Suro Breathe Ultimate Breathing Solution - 236 mL
Suro Organic Elderberry Syrup - Adult - 236 mL
Breathing Solution Details:
Suro Breathe™ is a modern organic remedy formulated by a physician to help various sources of breathing difficulties.
Whether you are experiencing difficulty breathing due to asthma, sinus congestion caused by seasonal allergies, lung congestion from various illnesses such as the common cold and flu, or even air pollution, Suro Breathe™ will help you! Suro Breathe™ maximizes breathing by relaxing and opening up the airways, and decreasing congestion. It is also formulated to help soothe and heal irritated tissues from inflammation and irritation.
Features:
Liquid remedy
Physician Formulated
Certified Organic
Canadian Elderberries
Contains the following herbs:
Nettle, Eucalyptus, Elderflower, Fenugreek, Thyme, Marshmallow, Mullein, English plantain, Sage, American ginseng, Rosemary, Elderberries, Aniseed, Spearmint, Cinnamon, Green tea, Juniper berries, Essential oil of clove.
Elderberry Syrup - Adult - Details:
Suro Organic Elderberry Syrup is made with organic Canadian elderberries, extracts of elderflowers, propolis, echinacea* and raw honey. Traditionally used to help fight colds and the flu. Use it when you have cough, sore throat, fever or congestion. Also contains propolis, elderflower and echinacea tinctures with Canadian raw honey.

Features:
Made in Canada from exclusively Canadian ingredients
Certified Organic
No added water or fructose
Canadian Organic, Raw, Unpasteurized Honey
Once open, good until expiry date (good for 4 years if opened!)
Better resistance to heat and light than European elderberry
Approved by Health Canada
Elderberry, elderflower and echinacea extracts
A syrup that tastes good and works