Suro
Suro Kids Elderberry Syrup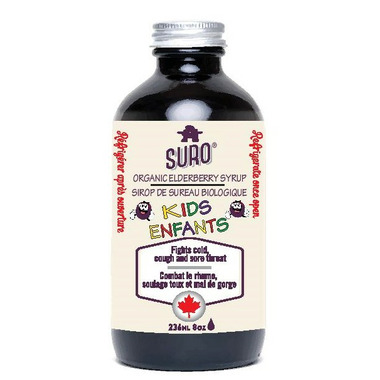 Suro
Suro Kids Elderberry Syrup
Description
Certified Organic Elderberry Syrup made with organic Canadian elderberry, extracts of elderflowers, propolis, and raw honey. Traditionally used to help fight colds and flu. Alcohol free. Especially made for kids, this syrup tastes good! Soothes sore throats, helps in case of coughing, fever. Also contains elderflower and propolis tinctures with Canadian raw honey.

Recommended Use:
10 to 14 years old: 1 tsp (5ml) 2 to 4 times per day
5 to 9 years old: 1 tsp (5ml) 2 times per day
2 to 4 years old: 1 tsp (5ml) once a day
1 to 2 years old: Follow health care provider's recommendation
Highlights

Features
Made in Canada from exclusively Canadian ingredients
Certified Organic
No added water or fructose
Canadian, Organic, Raw, Unpasteurized Honey
Once open, good until expiry date (good for 2 years if opened!)
Better resistance to heat and light than European elderberry
Approved by Health Canada
Elderberry, elderflower and echinacea extracts
A syrup that tastes good and works
Ingredients
Medicinal Ingredients PER Tbsp (15ml): 1:2.77, (1,675 mg) organic Elderberry (Sambucus canadensis); 1:5.08, (28,5 mg) propolis tincture (bee hive); 1:2.14, (100 mg) fresh organic Elderflower.? Non-medicinal Ingredients: Non-pasteurized organic honey, organic apple cider vinegar.
Shipping & Returns