Sweets from the Earth Gluten Free Oatmeal Coconut Cookies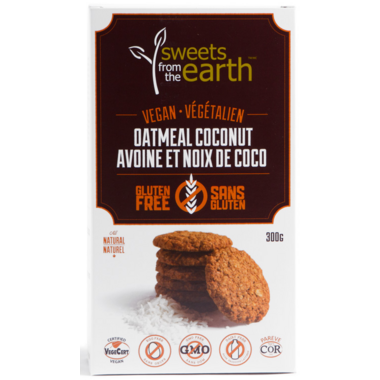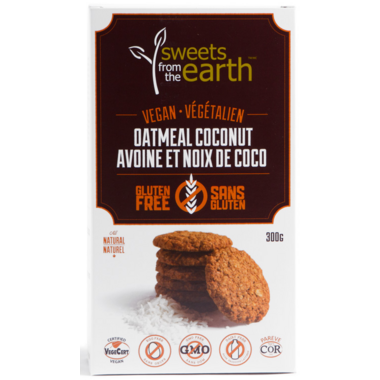 Sweets from the Earth Gluten Free Oatmeal Coconut Cookies
This cookie is packed with oaty goodness and delicious coconut.
All natural, lactose free, cholesterol free, trans fat free, no artifical flavours or colours, no preservatives, low in saturated fat, non-hydrogenated, no refined sugars.
Features & Benefits:
All natural
Organic ingredients

Lactose free
Cholesterol free
Trans fat free
Gluten free

No artificial flavours, colours, or preservatives
Low in saturated fat
Non-hydrogenated
No refined sugars
Ingredients:
Pure gluten free rolled oats, organic evaporated cane juice, organic coconut oil, pure gluten free oat flour, whole grain brown rice flour, sunflower oil, potato starch, unsweetened & unsulphured desiccated coconut, organic blackstrap molasses, organic flax seeds, baking soda, sea salt.