Swiss Natural Glucosamine, Chondroitin & MSM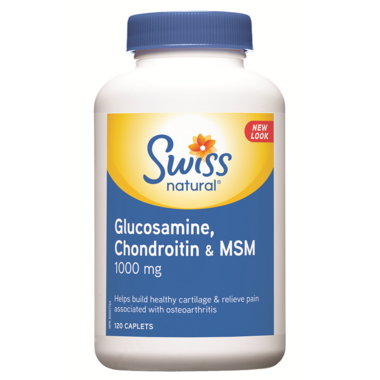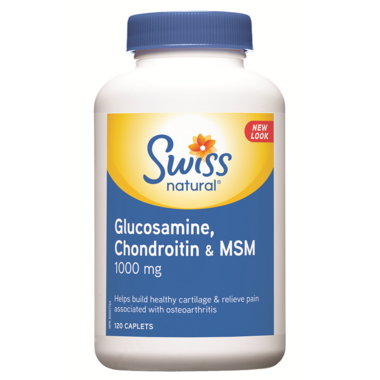 Swiss Natural Glucosamine, Chondroitin & MSM
Keep Your Body Moving Every Day!

Aging, wear and tear and inadequate nutrition all contribute to the breakdown of cartilage and loss of joint mobility. Help build healthy cartilage and relieve your joint pain with glucosamine, chondroitin, and MSM:
Glucosamine acts to stimulate synthesis of cartilage in the joints and reduces degradation; relieves pain and inflammation around joints
Chondroitin sulfate works with collagen to keep tendons, ligaments, arteries, skin and other tissues strong and resilient
MSM (Methylsulfonylmethane) has anti-inflammatory and analgesic properties that aid in the relief of symptoms associated with arthritic joints.


Lin:
more than a year ago
Great product! Would like to note that many other GC & MSM manufacturers are now using Glucosamine sourced from fermented corn, whereas Swiss Naturals still uses shellfish sourced glucosamine. This is particularly important if a person uses the product for their dog as some dogs do not tolerate anything with corn. I recently inadvertently picked up one of those other products without noticing the change to corn sourced glucosamine and within a week my dog developed a nasty skin problem; something he'd never had before, having been fed homemade diet his whole life. He's now doing great on the Swiss Naturals ...
Thank you Well.ca for carrying this brand !
donald:
more than a year ago
I am well satisfied with well.ca product because they keep in stock the right brand like SWISS who is a very respect company natural product. Also, they offer product of SISU and WEBBER, who are the finest product on the market. To finish this appreciation, shipping cost is free the last time I order. Thank's......May I suggest one thing to the Well.ca seller; why don't you try to find and sell (Maximum Telomere capsule) who are difficult to find on the market, specially in Canada. rating; 5/5
Page
1