Swiss Natural Glucosamine & Chondroitin Sulfate Bonus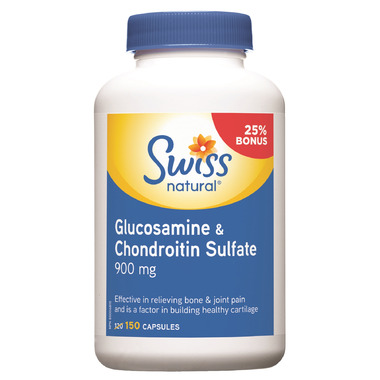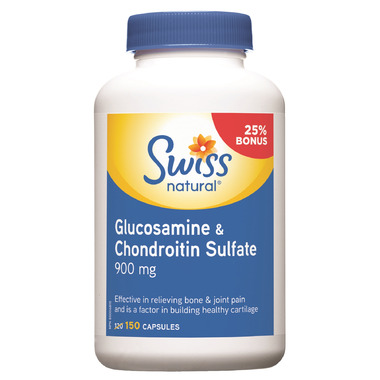 Swiss Natural Glucosamine & Chondroitin Sulfate Bonus
You don't realize how much you rely on your joints until you experience joint pain. So when you feel discomfort all the way down to the bone, get relief with this Glucosamine and Chondroitin combo. Glucosamine is easy to absorb and distributes naturally to joint tissue while Chondroitin works with cartilage to keep tendons, arteries and ligaments strong. You rely on your joints, so let your joints rely on Swiss Natural.
Recommended Use:
Effective in relieving bone & joint pain and is a factor in building healthy cartilage.

Recommended Dose:
Adults: Take 1 capsule 3 times daily with food or as directed by healthcare practitioner. Use for a minimum of 4 weeks to see beneficial effects.

Ingredients:
Glucosamine Sulfate (Shellfish exoskeleton) ... 500 mg
*from 667 mg glucosamie sulphate sodium chloride
Chondroitin Sulfate (Bovine trachea) ... 400 mg
Non-Medicinal Ingredients:
Gelatin capsules, magnesium stearate.

Additives:
No artificial flavours, colours or sweeteners. No preservatives, dairy, corn, soy, gluten, wheat or yeast.
Warning:
Consult healthcare practitioner prior to use if pregnant/breastfeeding or if symptoms worsen.

Contraindications:
Do not use if pregnant/breast feeding or allergic to shellfish.

Donna:
a few months ago
I have been buying this product for years at either grocery stores or pharmacies but recently this product is no longer available from these retail outlets. I've tried other brands of glucosamine chrondroitin sulfate but the tablets are so big that I cannot swallow them. Luckily, I was able to find them on-line at Well.ca and I am very happy because they are smaller capsules and easy to swallow. My shipment arrived quickly as well. I do notice that when I take these capsules, my knee joints have less pain.
Donna
Joanne:
more than a year ago
I give these pills to my dog to help with his joints. He's been on glucosamine pills for several years now and this bottle is a great value and ingredients are very natural. I've been using this brand for about a year and my now 6 year old lab is still doing amazing with the supplement.
Page
1