Swiss Natural Sources Adult Multi One Formula
Iron Free, Plus Non-Acidic Vitamin C, Lutein & Lycopene
60 Capsules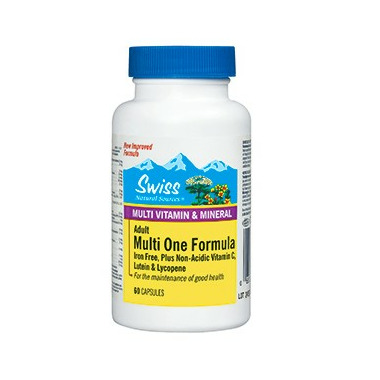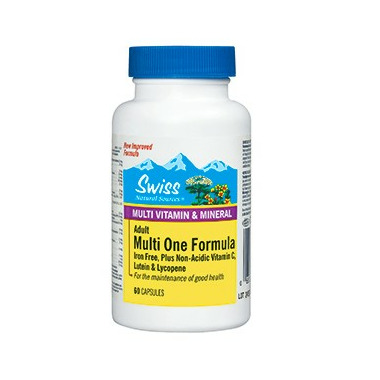 Swiss Natural Sources Adult Multi One Formula
Iron Free, Plus Non-Acidic Vitamin C, Lutein & Lycopene
60 Capsules
- We're sorry, this product is no longer available!
- Shop for other products in: General

For the maintenance of good health.
All-trans Beta Carotene 5 000 I.U. †
† equivalent to 1500 mcg beta carotene or 750 mcg retinol activity equivalents (RAE)
Vitamin B1 (Thiamine Hydrochloride) 25mg
Vitamin B2 (Riboflavin) 25mg
Vitamin B6 (Pyridoxine Hydrochloride) 25mg
Vitamin B12 (Cyanccobalamin) 25mcg
Biotin 10mcg
Folic Acid (folate) 500mcg
Niacinamide 25mg
Pantothenic Acid (Calcium d-Pantothenate) 25mg
Vitamin C (Calcium Ascorbate) 75mg
Vitamin D3 (Cholecalciferol) 5 mcg / 200 I.U.
Vitamin E (D-Alpha Tocopherol Succinate) 33.5 mg AT‡ / 50 I.U
‡ A.T.: alpha-tocopherol
Elemental Calcium (Ascorbate, Citrate, Carbonate) 125mg
Elemental Chromium (HVP* Chelate) 50mcg
Elemental Copper (Gluconate) 1mg
Elemental Iodine (Potassium Iodide) 50mcg
Elemental Magnesium (Citrate, Oxide) 50mg
Elemental Manganese (Gluconate) 1.5mg
Elemental Molybdenum (HVP* Chelate) 25mcg
Elemental Potassium (Citrate) 25mg
Elemental Selenium (HVP* Chelate) 50mcg
Elemental Vanadium (HVP* Chelate) 25mcg
Elemental Zinc (Citrate) 5mg
Lutein 100mcg
Lycopene (Lycopersicon esculentum) 20mcg
* HVP : Hydrolyzed Vegetable Protein
Non-medicinal ingredients: colloidal silicon dioxide, magnesium stearate, microcrystalline cellulose, gelatin

No artificial flavours, colours or sweeteners. No preservatives, dairy, gluten, wheat or yeast.
Do not take if pregnant or breastfeeding.