Swiss Natural Niacinamide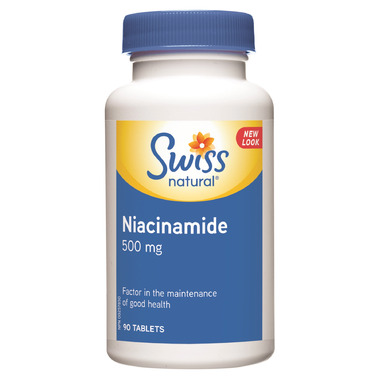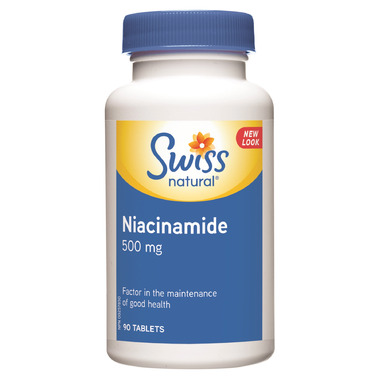 Swiss Natural Niacinamide
- We're sorry, this product is no longer available!
- Shop for other products in: Vitamin B

DID YOU KNOW?
Niacinamide is a B Vitamin
B Vitamins are water soluble, meaning any excess is not stored but excreted or lost through perspiration. They must be continually replaced to maintain proper blood levels, in order to supply the tissues with the needed nutrients required for the necessary physiological and biochemical cycles in which they are involved
B Vitamins:
Are active in providing the body with energy by metabolizing fats, proteins and carbohydrates
Promote heart health
Ingredients: Niacinamide
Non-Medicinal Ingredients:
Microcrystalline cellulose, dicalcium phosphate, croscarmellose sodium, magnesium stearate.
Additives:
No artificial flavours or colours. No preservatives, sweeteners, dairy, corn, soy, gluten, wheat or yeast.

Laura:
more than a year ago
This product works well, however it tastes horrible! You can not let it sit on your tongue very long or else there is a very strong taste stuck on your tongue for a while. I believe there is a taste issue because the pill does not have any coating on it. I have solved this problem by placing the pill as far back on my tongue as possible. If they could place a coating on it, I would have rated it 5 stars.
Teresa:
more than a year ago
When I discovered that I had arthritis in my fingers I started reading to find out if there was a natural way to allivate the pain and hopefully prevent the progress of the arthritis. I finally read in a Linus Paulin book that 3 - 5 g. per day of niacinamide could help. I started taking it three years ago and it has helped considerably. The only trouble is finding a reliable source of niacinamide - even health food stores don't carry it regularly. Swiss natural sources niacinamide is reasonably priced and their niacinamide has helped keep my arthritis in check. I know this because prior to finding their website I would run out & not be able to obtain niacinamide and that would cause both pain in my fingers, and new ones to start 'moving' sideways. Taking niacinamide would almost immediately stop the pain & movement.
Page
1