Systane Gel Drops Lubricant Eye Gel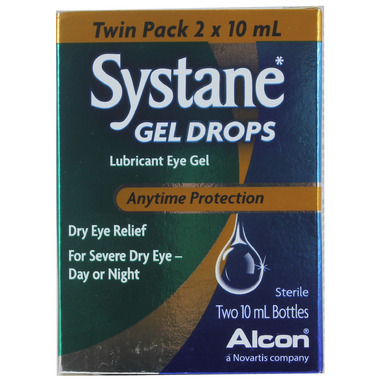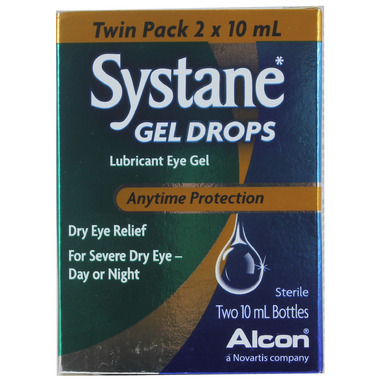 Systane Gel Drops Lubricant Eye Gel
Systane Gel Drops Lubricant Eye Gel provides temporary relief of burning and irritation due to dryness of the eye.

For severe dry eye, Systane Gel Drops Lubricant Eye Gel is an easy to use droppable gel that forms a protective shield over your eyes to provide enduring relief - day or night.

Ingredients: Preserved with Polyquad (polyquarternium - 1) 0.001%. Also contains aminomethylpropanol, boric acid, edetate disodium, hydroxypropyl guar, polyethylene glycol 400, potassium chloride, propylene glycol, purified water, sodium chloride, sorbitol. May contain hydrochloric acid and/or sodium hydroxide to adjust pH.

Directions: Use as often as needed. Contact lens wearers should instill drops prior to inserting contact lenses and after removal of contact lenses. Place 1-2 drops on the eye(s) and blink.

Gabi:
more than a year ago
Hate it, hate it, hate it !!! I've used the Systane liquid for quite a while, been pretty happy with it, and (in my own mind) thought that the gel would feel smoother and last longer. Wrong!! When I first put the drops in my vision goes completely blurred even though it is not a thick texture gel, It's like looking through a piece of glass that's had grease smeared all over it. No matter how much I blink to try to clear it up it doesn't. It takes easily 5 minutes to clear. Not good when you're trying to get ready for work or while working. The effect is the same whether I wear glasses, contacts or if I wake up in the middle of the night wearing neither. Gave it a fair shot and used it 6 times. Gave up. Tossed it. Regretted spending the $$$. Going back to using "Blink". Sorry to say this is the worst review I've ever given Anything. Sad. Had hopes for this.
Page
1