T. Lees Soap Co. Eucalyptus & Mint bath salts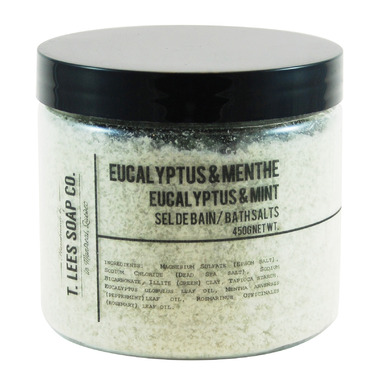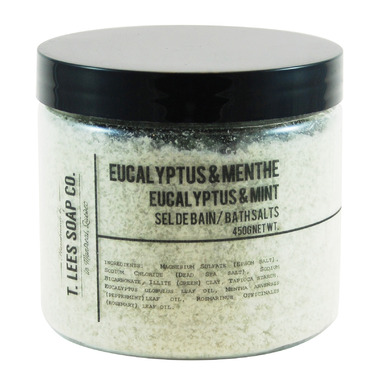 T. Lees Soap Co. Eucalyptus & Mint bath salts
Feeling under the weather? With a powerful blend of essential oils known for their antiviral and antibacterial properties these soothing bath salts will help ease your cold and flu symptoms while working wonders to relax your tired and sore muscles.
Key Ingredient Benefits:
Dead Sea Salt: The Dead Sea is the most saline body of water in the world with far greater concentrations of minerals than any ocean including magnesium, sodium, calcium and potassium. All these minerals work together as regulators of cell activity and daily functioning, relieving muscular pain and stabilizing fluid levels in the body.
Epsom Salt: Not actually salt but a naturally occurring pure mineral compound of magnesium and sulfate, Epsom salt is readily absorbed through the skin to help regulating the activity of over 325 enzymes, reducing inflammation, helping muscle and nerve function while improving the absorption of nutrients, flushing toxins, and helping to ease migraine headaches.
Directions:
dissolve several scoops of salt into warm bath water. soak for 20 – 25 minutes.
Ingredients:
Epsom salt, Dead Sea salt, French Green clay, baking soda, tapioca starch, eucalyptus oil, rosemary oil, peppermint oil.
Caution:
For external use only. Discontinue use if irritation occurs.

Natural, vegan, gluten free, non-GMO, dairy free