Tea Forte Pumpkin Spice Petite Presentation Box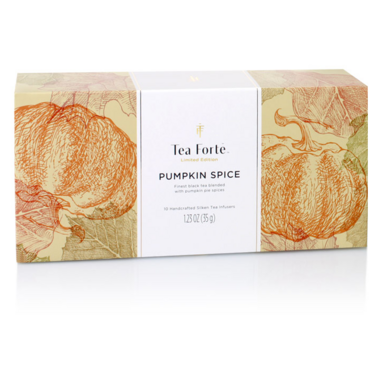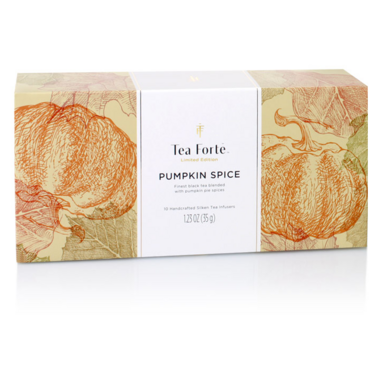 Tea Forte Pumpkin Spice Petite Presentation Box
Tea Forte Pumpkin Spice autumnal blend of finest black tea, pumpkin, ginger, cinnamon and clove. The perfect answer for one of the most beloved seasonal beverage and obsession for pumpkin spice goodness.
This Presentation Box opens and reveals ten handcrafted pyramid infusers.
Features:
Silken, handcrafted pyramid infusers
Presentation box included and perfect for gift giving
Pumpkin Spiced Latte
Ingredients:
1 Tea Forte Pumpkin Spice pyramid infuser
5 oz spring water
1/2 amber tea sugar
4 oz heated milk with froth
Whipped cream, pumpkin pie spice or cinnamon
Directions:
Bring water to a boil
Steep tea in a Poom glass for 5 minutes, remove tea leaves
Add sugar an stir till dissolved
Pout in milk and top with froth or whipped cream
Garnish with a dash of spice and cinnamon stick
Anonymousse:
about a month ago
PROS:
- Love the box. You can lift out the part of the box that holds the tea bags and then use the outside container as a pencil box or all-purpose container.
- Individual tea bags can be used as party favours because they are individually wrapped (and so nicely too!).
CONS:
- The tea has a smoky taste that might be appealing to some, but it doesn't taste like "pumpkin spice" to me (though this is subjective).
- I realized after purchasing that the "silken" tea bags are made of plastic, and therefore not compostable.
Page
1