Tea Forte Single Steeps Matcha Sampler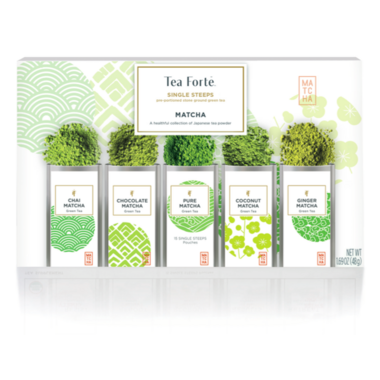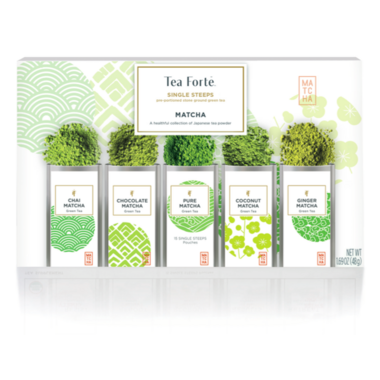 Tea Forte Single Steeps Matcha Sampler
- We're sorry, this product is no longer available!
- Shop for other products in: Loose Leaf Tea

Tea Forte Single Steeps Matcha Sampler contains 15 variety pouches that include Chai Matcha, Pure Matcha, Coconut Matcha, Chocolate Matcha and Ginger Matcha.

Chai Matcha
An enlightening cup of stone milled matcha awakened with the traditional flavour of chai spices including cardamom, cinnamon, ginger and glove. Carefully crafted to deliver the true taste of two timeless beverages. Mix with milk for a refreshing and healthy latte.

Chocolate Matcha
A delighting and delicious tea decadent with the taste of confectionery chocolate and finely milled matcha. Perfect to pair with after- dinner conversations, chocolates, cakes and tarts but can be sipped as dessert on its own.
Pure Matcha
Spring harvested and shade grown for elevated chlorophyll and amino acids to deliver matcha's bountiful health and enlivening energy. Create a delicious uplighting "teaspresso" with milk or milk alternative. Serve hot, steamed, iced or blended!
Coconut Matcha
Recharge and refresh with the fragrant flavourful taste of stone ground match and creamy coconut. Vivid and invigorating, this tropical tease will take you to a delicious place of balanced brightness and health. Enjoy with a splash of milk or soy. Also nice with ice.

Ginger Matcha
A teahouse steep of jewel- green ceremonial matcha powder, with the zing of warming ginger and the minty undertones of lemongrass for a healthy and delicious culinary cup. Try it with a whirl of ice, agave nectar or honey for a sweet iced tea.