Teeccino Caffeine-Free Medium Roast Herbal Coffee Vanilla Nut Flavour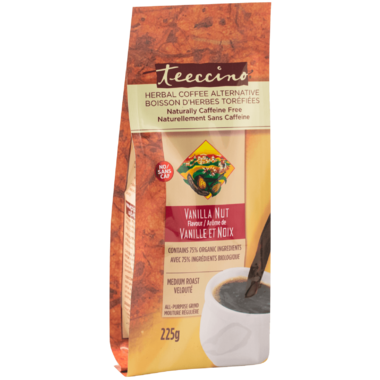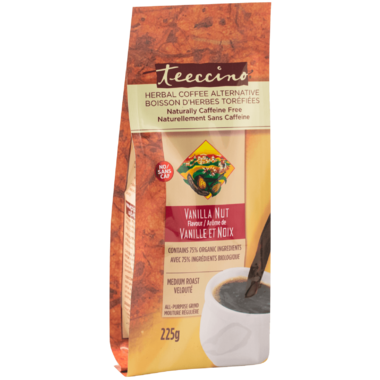 Teeccino Caffeine-Free Medium Roast Herbal Coffee Vanilla Nut Flavour
Vanilla, the only orchid used in food, has become a favourite the world over due to its unparalleled fragrance and complex, heady flavour. Vanilla is indigenous to Central America where it was discovered by the native people centuries before the Spanish arrived. The Aztec Emperor, Montezuma, was said to be drinking an elixir for longevity made from cacao, vanilla and honey when the conquistadors were ushered in for an audience.

Drink this delicious vanilla flavoured coffee alternative knowing that you are helping indigenous communities find sustainable livelihoods that preserve rainforests.
Features & Benefits:

Antioxidants from carob, barley and ramon seeds
Naturally caffeine free – no processing or chemical residues
Non-acidic – helps restore alkaline balance Natural energy boost – from nutrients, not stimulants
Contains heart-healthy potassium
1 g of soluble fiber per serving

Brew and serve, just like coffee!

Ingredients: Roasted organic carob, organic barley, organic chicory, dates, almonds, organic dates, natural vanilla extract, natural nut flavour, figs. Contains: Almonds.