Teeccino Dandelion Mocha Mint Roasted Herbal Tea
Caffeine Free
10 Tee Bags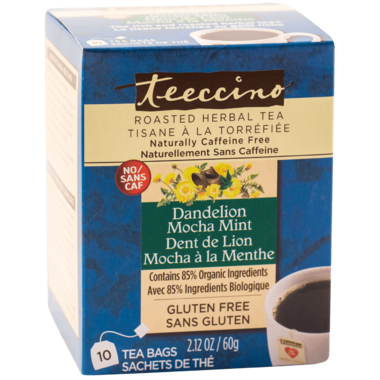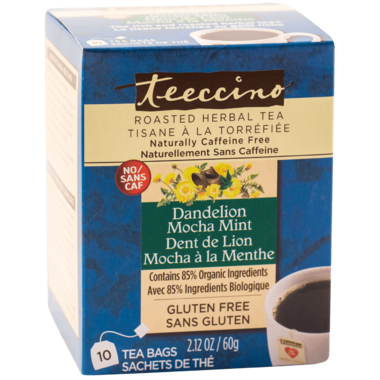 Teeccino Dandelion Mocha Mint Roasted Herbal Tea
Caffeine Free
10 Tee Bags
Whether you're a tea or coffee drinker, you'll love Teeccino Dandelion Mocha Mint Chicory Herbal Tea's satisfying, robust flavour that fans describe as smoother, richer and creamier than coffee. The secret? French chicory, the roasted root often added to coffee, blended with dandelion, the renowned detox herb, and Spanish carob, famed for its chocolaty flavour. Enriched with California's almonds, dates and figs, and peppermint from the Pacific Northwest, Teeccino makes a delicious cup of tea....or is it coffee? We'll let you decide!
Benefits:
Chicory herbal tea
Caffeine free, acid free, natural energy boost, contains potassium and soluble fire
3 times more product than regular tea bags
Convenient, single serve bags, indvidually wrapped
Fresh brewed flavour is superior to instant beverages
Directions:
Before tearing, shake envelops at top. Pour 8 oz of boiling water over the tea bag in a cup and steep for 3-5 minutes. Dunk the bag several times in the beginning for the best brew. Use 2 tea bags for a stronger brew in a larger mug. Add milk, non-dairy milk, and sweetener as you prefer. Iced Teeccino: Steep 2 bags in 8 oz boiling water. Pour over ice in a 12 oz glass and add milk and sweetener to taste.
Ingredients:
Carob*, chicory*, dandelion*, dates*, almonds, mocha flavour, cocoa powder*, peppermint leaf, figs*, peppermint oil. *Certified Organic.
Contains:
Almonds