TENA Classic Protective Underwear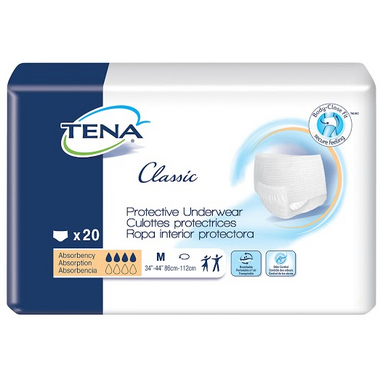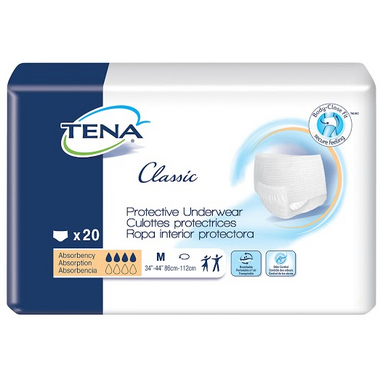 TENA Classic Protective Underwear
TENA Classic Protective Underwear is designed for everyday use and frequent changing. Provides moderate to heavy Protection with full coverage. Soft Cloth-like, breathable material has the look, feel and comfort of a regular underwear.The Classic Protective Underwear more discrete supporting the individual needs.
Features:
Soft, cloth-like, breathable pant has the look, feel, and comfort of regular underwear

Soft, breathable waist & pant elastics provide a secure, comfortable fit

Gentle leg gathers ensure a comfortable, body-close fit while helping to provide extra leakage protection

Pull-up/pull-down pant with convenient tear-away sides makes product use simple and easy

Super absorbent microbeads and fast-absorbing core locks away moisture and odour for effective leakage protection

Size printing for correct product selection and application. To fit properly, size printing must face the back (except xl)

Four sizes to ensure proper fit and comfort
Medium: Fits waist/hip sizes: 34"-44" (86-112 cm)
Annette:
more than a year ago
Purchased this for a family member with end stage colon cancer to see if they were similar to Tenas from major Drug Stores. She prefers these ones as they are a better fit since she can't get the Classic Tenas and so much comfortable. The size medium is a perfect right now as her weight continues to drop fast. The price is similar but you get 20 where in major drug stores you only get 16, which if you have to use them that extra 4 goes a long way. Also, sometimes you can't just get the right size at stores if they don't have them in stock so Well.ca has them whenever needed. Much more easier to order on a regular bases than going out to ge them.
Page
1