The Honest Company Diapers Size 3
The Honest Company Diapers Size 3
is rated out of
5
by
4
.
The Honest Company Honest Diapers are made with naturally derived, plant-based and sustainable materials.
Exciting print and packaging refresh! Introducing more prints in a pack that has a new look and feel. Super-absorbent with soft, gentle materials made without chlorine processing and additives (like fragrances, lotions, and latex) – gentle on baby's bottom! Made with a plant-based inner and outer layer, Honest Diapers are premium diapers are available in adorable classic options.
Features:
Eco-friendly baby diapers

Plant-based (PLA) inner and outer layers, plus an absorbent core with fluff pulp harvested from certified sustainably managed forests

Naturally derived odor inhibitors formulated from citrus and chlorophyll
Bio-based, gluten free wheat/corn blend in super absorbent core
No fragrances, lotions, or latex
Comfy-stretch side panels and soft with refastenable tabs
Securely fitting moisture barrier cuffs help prevent leakage and blowouts
Gentle, safe, and non-irritating for sensitive skin
Sizing:

Up to 10 lbs - Size N
8-14 lbs - Size 1
12-18 lbs - Size 2
16-28 lbs - Size 3
22-37 lbs - Size 4
27+ lbs - Size 5
Materials: Totally Chlorine-Free (TCF) Wood Pulp (From Sustainably Managed Forests, No Optical Brighteners), Absorbent Bio-Core (Wheat/Corn Polymer Blended With Sodium Polyacrylate), Plant-Based PLA (Inner & Outer Layer), Safe Adhesives (In Seams & Joints), Polymer Spandex & Polypropylene (In Leg/Waist System), Ink (Made Without Lead & Heavy Metals In Printed Backsheet), Citrus Extract & Liquid Chlorophyll (Natural Acting Odor Blockers In Bio-Core)
Don't forget to pick up The Honest Company Honest Baby Wipes and The Honest Company Soothing Bottom Wash!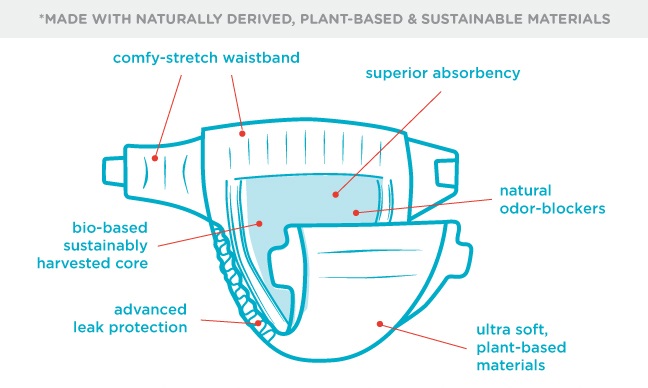 Rated

4

out of

5
by
Peggy
from
Great diapers!
Very good diapers and did not have any leaking issues. As other reviewers have commented, they are slightly bulkier and not as soft as some other eco diapers such as Nest, but they are really good diapers and I have already bought another pack. Buying greener diapers is one way to help lessen the environmental impact of diapers and also reduce the amount of chemicals against my baby's skin
Date published: 2020-03-16
Rated

5

out of

5
by
Adrienne
from
Slightly bulkier than some brands of diapers, but soft, not stiff, so that doesn't bother me or my daughter. These don't get that damp feeling on the outside that some other "green" brands get when they're wet on the inside. We use these for overnight too, and they very rarely leak. Such cute patterns too!
Date published: 2020-02-14
Rated

4

out of

5
by
Meggo
from
Love these diapers! BUT they hold smells.
I love everything about these diapers, they are thick and very stylish!!! However the only downfall is I can smell the Urine very strongly through them. I'm assuming it is because they are natural - and don't have a chemical to hold/ or cut the smell. But that's my only complaint!!
Date published: 2020-01-30
Rated

5

out of

5
by
Rissa
from
Absorbent
These have been easy on her skin and we haven't had any blow outs even after overnights. Cute prints too.
Date published: 2020-06-14