The Laundress Stiffen Up Ironing Spray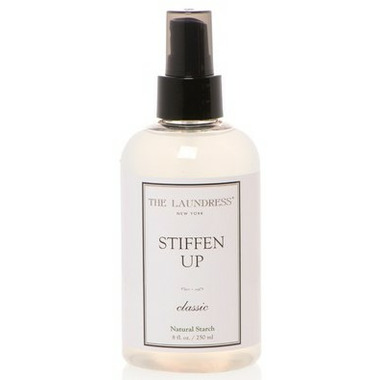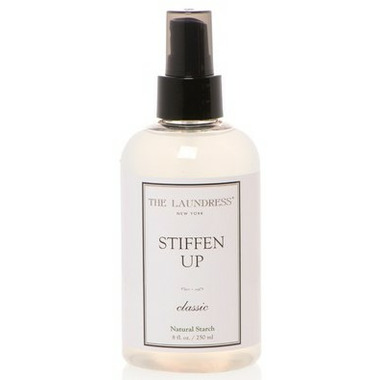 The Laundress Stiffen Up Ironing Spray
The Laundress Stiffen Up Ironing Spray will have you fall in love with ironing (yes, really!) thanks to this cornstarch solution. Unlike grocery store-brand starches, this fresh-scented, non-aerosol spray is formulated to avoid buildup while adding a light to moderate hold with a crisp finish.
The Laundress start-to-finish laundering collection is scented in Classic, the ultimate "clean laundry smell", blending lily of the valley and jasmine with sweet musk, sandalwood, and a touch of citrus.
Features:

Nontoxic, biodegradable, and allergen-free.
Free of petroleum, phosphate, phthalates, and artificial color.
Cruelty-free, no animal by-products.
Ideal for: Cotton, linen, blends, some synthetics, dress shirts, linens, sheets, ironing and steaming
Directions: While pressing or steaming, spray items from 6 inches away. Do not starch silk, silk blends, silk-like fabrics, delicate synthetics, or any wool, cashmere, or wool-like synthetics.
Ingredients: Deionized water, cornstarch, essential oils, and fragrance.

Color and texture may vary with natural ingredients.