The Missing Link Ultimate Canine Hip & Joint Supplement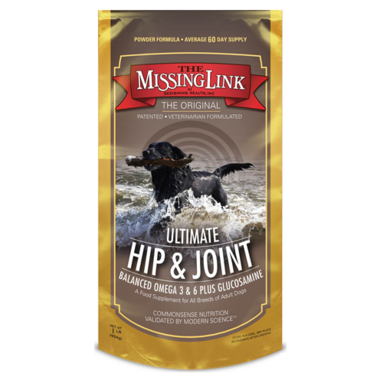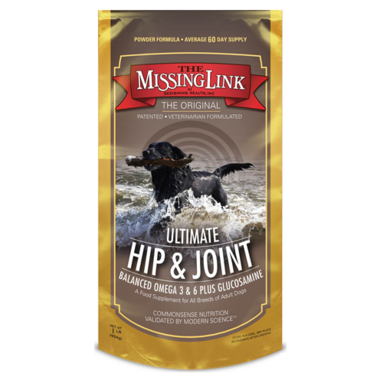 The Missing Link Ultimate Canine Hip & Joint Supplement
The Missing Link® Ultimate Hip and Joint for Canines (Formerly Missing Link Canine Plus Formula) line of products features a unique blend of glucosamine hydrochloride, Omega 3 and 6 fatty acids, and rich whole foods and food concentrates to provide the ultimate in joint support in combination with great nutrition.
This unique synergistic blend of the highest quality ingredients combines:
Glucosamine to support healthy joints and flexibility
Omega fatty acids to support intercellular health, for absorption of fat soluble vitamins, and to maintain energy levels
Dietary fiber to promote a healthy digestive system
Phyto (plant) nutrients to support general health and nutrition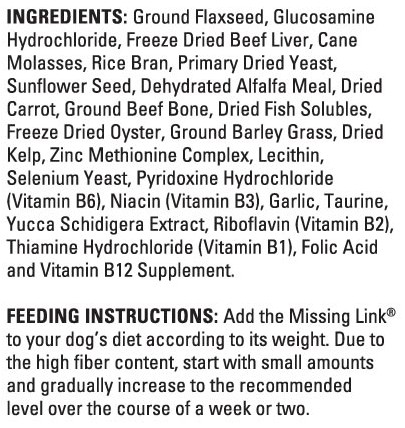 Kayla:
more than a year ago
My dog loves this supplement! She's a young lab and would get super sore and stiff after going for runs and playing too rough with the other dogs. After having her on this supplement for two weeks she no longer stiff and sore after a hard day of playing and running with the ATV and being a crazy pup that she is. I'd recommend this product to all my friends !
jacque:
more than a year ago
I have used this product successfully in the past for my aging Rottweiler - and now I am giving it to my pitbull as she vetted showing degeneration in her young joints. She has since stopped all limping, or waking up sore or stiff, and her exercise regime has incrementally increased so I know the product is working its magic. Great product and very reasonably priced; plus being natural there are no digestive upsets - as my pitty has food sensitivities as well.
Page
1