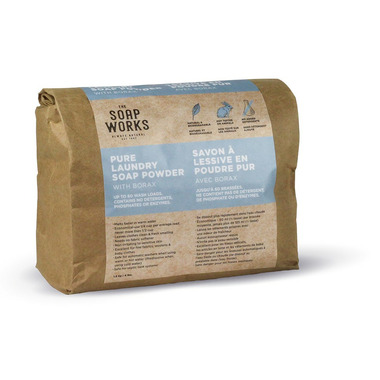 1.8 kg
The Soap Works Pure Laundry Soap Powder
is rated out of
5
by
7
.
---
Description
The Soap Works Pure Laundry Soap Powder is a pure soap product containing borax – it keeps clothes softer and colours last longer. This is organic, biodegradable and non-polluting. This soap powder contains no detergents, and does not require the use of anti-static or fabric softeners

Privately run retirement homes have found that this product has many benefits over commercial detergents. Washing bed linens in pure soap powder instead of commercial detergents resulted in fewer bed sores and irritated skin for their residents. Since many of the residents are bed-ridden, washing bed clothes with soap instead of detergent meant a world of comfort and improved well being for the residents. Soap Works Laundry Soap may cost a little more per load compared to detergents, but soap does not need fabric softener or anti-static treatments so you save the cost of these additives. Your clothes will feel softer and your colours will last longer when you wash your clothes with soap.
Ingredients: Sodium tallowate, Sodium Cocoate, Sodium Borate
Highlights

Rated

5

out of

5
by
Amanpan9090
from
No plastic!
Finally, a laundry soap solution that doesn't produce tons of plastic waste! No plastic packaging, no hidden plastic scoop inside, nothing. Smells nice, no heavy perfumes or scents. Makes your clothes nice and soft, the description doesn't lie! What the website and packaging won't tell you though, is unless you wash using HOT water, you will need to BOIL some water and PRE-DISSOLVE and agitate it a bit before you use it to wash. (I just use a dedicated old jar and one of my many teaspoons/small spoons, a little of this soap goes a long way, I use 4 spoonfulls for large loads/heavily soiled loads and adjust from there) I prefer to use cold water for most of my washing, so I pre-dissolve most of the time and it works great.
Date published: 2020-04-30
Rated

5

out of

5
by
B'nana
from
Works well
I was looking for low cost low packaging laundry detergent. This is both that and it works!
Date published: 2020-04-13
Rated

5

out of

5
by
Morgan
from
Perfect for hard water!
We have hard water and this detergent works great, especially on getting the stink out of our babies cloth diapers. Highly recommend!
Date published: 2020-06-04
Rated

5

out of

5
by
V_collette
from
Awesome
I was looking for a Canadian brand, that did a great job, and did not have any plastic package. I found it. Love love it!
Date published: 2020-05-01
Rated

5

out of

5
by
Rinse Boomer
from
Excellent eco friendly product and packaging
Love this soap. It works great.I I use about 2 tablespoons for a load and maybe 3 if it includes my most worn work socks. I recommend it to friends and recently gave a friend a bag when I ordered more for myself. I want friends to get to know it. It's the friendliest laundry product I've found
Date published: 2022-02-06
Rated

5

out of

5
by
Shannon
from
Amazing stuff!
We live on the west coast were the humidity is very high. I tried everything to get the smell out of my towels and washcloths and could not. Had tho throw so many away. Tried this and in one was they have no musty smell. I was shocked!
Date published: 2022-05-17
Rated

1

out of

5
by
c
from
Bad smell (potentially quality issue)
The product has a smell that is similar to products that had gone bad. Not even washing the clothes twice can remove the smell. Do not recommend.
Date published: 2021-12-06