thinkbaby All In One Bottle Set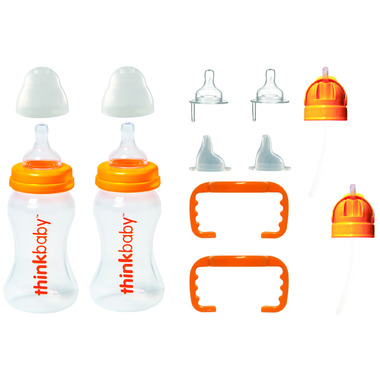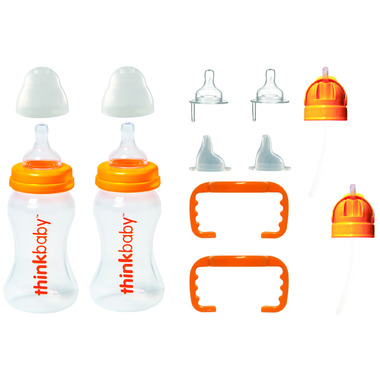 thinkbaby All In One Bottle Set
thinkbaby All In One Bottle Set is an excellent bottle system that grows with your little one.
Babies start with a bottle base which transforms into The Sippy and then again into The Thinkster. The BPA free line that transitions from newborn to 4+ years of age.
This set is a responsible choice for parents who want to save money and space, while simultaneously protecting the environment from needless waste.

Free of - Bisphenol-A (BPA), phthalates, nitrosamines, lead, PVC, PET, and biologically harmful chemicals.
Includes:
Two x Stage A nipple (for 0 to 6 months and marked with a number 2 on the nipple)
Two x Stage B nipple (for 6 to 12 months and marked with a number 3 on the nipple).
Two x 9oz bottle bases
Two x Travel tops
Two x The Sippy Handles
Two x Stage C - Sippy Spouts (9 to 24 months)
Two x Stage D - Thinkster Tops (18 to 48 months+)